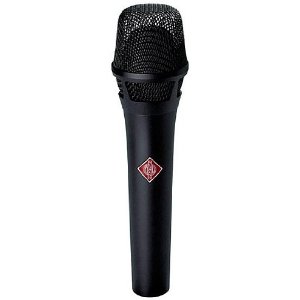 Handheld vocal microphone


Awesome sound quality
Gives your voice excellent resolution
No foam, so no "muffling"

This mic does have a steep tag for those of us who are not using it on a regular basis.

The Neumann KMS105 is a great buy. It will block out the wind for outdoor use and still gives you that wonderful sound you want, just listen to how great your voice is with this mic!
---

Neumann KMS105 Black Vocalist Microphone Review
Neumann- the brand is simply loved by sound and studio lovers like me. Neumann KMS105 was launched more than a decade ago and still this microphone is rated among the best ever in the hand held range of microphones. I heard about its clarity and awesomeness by many and realized its worth and truthfulness of the opinions when I bought one of my own. Even if you have basic system and equipments, the Neumann KMS105 will still provide wonderful vocal clarity. After using it for the first time, I was awestruck by its performance. All the users of this Neumann product have always commented on how accurately it reacts to different tones. Personally, I am comfortable using this mic, even without an equalizer.
The Neumann KMS105 is great for being on stage. It entails all the precision and reliability of a true Neumann product. This microphone is excellent for all forms of live and studio performances. Apart from vocals, I also use it with my strings and bass. Taking you through the technical aspect of this microphone, it is designed with a supercardiod polar pattern with fantabulous feedback rejection, transformerless output and without off-axis coloration. The unique four layer filter minimizes the wind noise and with specially designed electrical filters, the handling noise is virtually eliminated. The range of KMS105 is 132dB, allowing the artist to use full expression without complexity.
This mic is so awesome, I find it hard to use any other. The Neumann KMS105 smoothly picks the low notes. It also picks up the higher pitches, seemingly without effort. Neumann KMS105 microphone takes a credit of being the best handheld microphone ever experienced by me. This Neumann product at such an affordable price bags 5 stars for itself.
You can purchase the Neumann KMS105 Black Vocalist Microphone here

---
Technical Info:
• MSRP: $699.95
• Supercardiod polar pattern
• Unique four layer filter minimizes the wind noise
• The range of KMS105 is 132dB, allowing the artist to use full expression without complexity

Be sure to check out the other Microphone Reviews