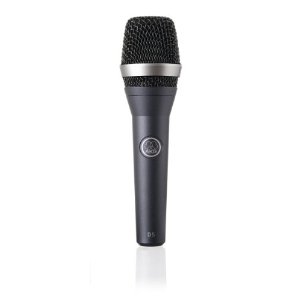 Durable, sturdy setup
Super cardioid polar pattern
Dual Shock mount keeps out unwanted noise
Performs great in even the worst concert conditions

Asking price is a bit much
Not too useful outside of a concert setting

The AKG D5 isn't a perfect mic, but it comes about as close as any other model this year. It is difficult to make a high quality concert mic that performs exceptionally in almost any condition but AKG's latest does just that. It may be out of the price range for some struggling performers but, if you can find it on sale, you'll be blown away by the superior craftsmanship and durable construction of this stellar microphone.
---

AKG D5 Microphone Review
Any band or entertainer that has performed on stage knows how important it is to have a high quality mic. It can mean the difference between a rollicking concert performance or a musical disaster. A decent studio mic is important when laying down tracks, but there is no substitute for a live mic. It is here, then, that the AKG D5 truly shines.
AKG is known for its very clever recording mics. They make models that are specifically designed to pick up string instruments, drums, and much more. But it is only now that they've put all their energy and focus into a stellar stage mic. And, wouldn't you know it, they succeeded here as well. The company owns a patent on their laminated "Varimotion" diaphragm and it is used to full force with this model. The clear, bright sound stays intact throughout even the most dynamic ranges. The supercardioid polar pattern (a must for many live mics) delivers gain and cuts out feedback so that even the most intense performers can feel secure when on stage. One of the best features, though, probably slips by all but the most discerning users: The dual shock mount. Thanks to this mount, the mic is completely free of mechanical interference.
The mic also comes with some pretty nice little extras; a handy mic clip and tote bag makes the mic a breeze to carry from show to show and its durable construction ensures that it will perform wonderfully time and time again. The price is a bit steep, sure, but you can often find the mic for a lower price than its MSRP. It also would have been nice if the D5 had been more versatile in terms of studio recording but we can't have it all, can we? What the D5 does have, though, is more than adequate and you can feel confident on stage with it even in the harshest circumstances.
---

Technical Info:
MSRP: $199.99
• Super cardioid Polar Pattern
• Dual Shock Mount
• Comes with Carry Bag
• Includes Mic Clip
• Laminated Varimotion Diaphragm
Be sure to check out the other Microphone Reviews