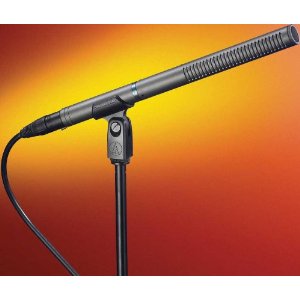 This is a microphone that is in its own level since it is designed with excellent patterns that enable it to pick up sound from relatively long distances.

The low cut frequency that is produced by the Audio-Technica AT897 is approximately 80 Hz and it has a steep slope. This means that when you want to remove the rumble it is important not to leave any audio information that you have intact. This device should also be handled with care because any form of fumbling when using it causes a lot of annoyance. You can easily loose the data and this is also attributed to the fact that it also does not have a button to witch it on and off.


The Audio-Technica AT897 is a product that I can recommend to my friends. The device is technological advanced to provide quality at a reasonable price.
---

Audio-Technica AT897 Microphone Review
This microphone falls in the shotgun category mainly because it is 11 inches long and less than an inch wide. In addition to this, the Audio-Technica AT897 is very light and weighs approximately 5 ounces. It has been finished nicely to a grayish color and it usually comes with a vinyl case that is padded.
The microphone has a windscreen that foams completely and has a stand for the batter & the adapter. The audio connection that is used for this device is made from a XLR connector that is of the standard type. It comes with a user manual though the process of plugging it in and using it is relatively simple.
This microphone also operates with the phantom power that is normally supplied by some mixers and cameras. The Audio-Technica AT897 is operated by only one AA battery that is able to keep it operational for approximately 1200 hours.
---

Technical Info:
Designed for video production and broadcast (ENG/EFP) audio acquisition
Short length (11") ensures mic stays out of the shot — even when used with compact digital cameras
Smooth, natural-sounding on-axis audio quality
Provides the narrow acceptance angle desirable for long-distance sound pickup
Excellent sound rejection from the sides and rear of mic
Be sure to check out the other Microphone Reviews