Easy to use, powerful desktop microphone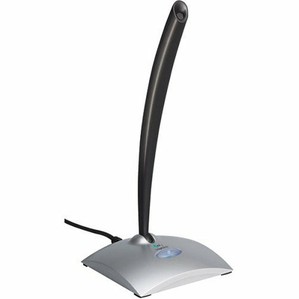 I love everything about this Logitech desktop mic. It's cool to look at, the clarity and sensitivity is topnotch and I love that I can use it for virtually any kind of recording. I think this is the finest desktop mic I've come across so far – it's amazing!

If this kind of quality came in a smaller package, this mic would be perfect. They should knock a couple inches in height off the mic and width off the base.

The Logitech USB desktop microphone is the perfect desktop mic for anyone whether you're a business person or student. This mic can do it all – from recording music to regular speaking. You can record onto a computer program or use it to talk to people with Skype. It's versatile and perfect!
---

The Best Desktop Mic On The Market: Logitech USB Desktop Microphone
A fantastic buy in terms of quality and versatility.
The Logitech USB Desktop Microphone is definitely at the top of my list. This is an affordable computer mic that's easy to use and sounds great. It's a plug and play accessory, which means all you have to do is plug it into your USB port and you're ready to rock, or record rather. There was no need to struggle with the installation of a driver because this mic doesn't require one. I was even able to use it with my Mac effortlessly.
It looks pretty neat. I like the curved design and the clean silver base. Speaking of the base, it's wide and very well weighted. In fact, it's virtually impossible to knock over. I also love the way the mic part pivots. This makes it easy to move around when you need to.
You can use the Logitech USB desktop microphone to record anything. You can record yourself speaking, singing or even playing the guitar. Best of all, you don't have to have the mic super close to you. Even from a few feet away, it'll pick up everything cleanly.
If you use Skype or any similar type of service/program then you're going to really get your money's worth out of this mic. It's powerful and the quality can't be beat.
I must say I'm really surprised this Logitech mic works so perfectly in every respect. It's great with both PC and Mac computers, the sound is crystal clear even from far away and the price is cheap. It's even sturdy and durable! If you need a desktop mic for any purpose at all, then the Logitech USB desktop microphone is the one I recommend.
---

Technical Info:
Frequency response: 100 Hz to 16 kHz
Input sensitivity: -67 dBV/ubar, -47 dBV/Pascal +/- 4 dB
USB connector: Yes
Cord length: 8 foot, shielded
Shielded: Yes
Noise canceling: Yes
PC system requirements: Windows 98, Me, 2000, or XP
Mac system requirements: Mac OS 9.0.4 and higher
USB requirements: Available 1.1+ port
Warranty: 1 year parts and labor
In the box: USB desktop microphone, user's manual
MSRP: $29.99
Were to Buy: