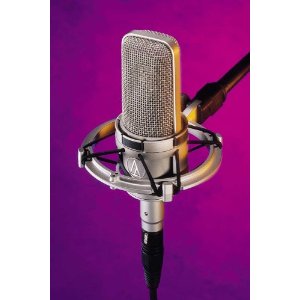 Award winning condenser microphone


Sleek classical design mixed with modern technology
Versatile
Can Handle the high SPLs

I really tried to com up with something, but no complaints on this mic.


---

Award winning condenser microphone
Audio Technica AT4047 Condenser Microphone Review
I was looking for a truly professional, large diaphragm and multi-purpose microphone. After searching a lot and reading many reviews my search finally ends at the Audio Technica AT 4047 Condenser Microphone. This microphone meets all the aspects I was looking for. The AT 4047 is a piece manufactured professionally and for professional purpose. If you are looking forward to recording your first cut, or you have opened a new studio, this microphone is a must have in your arsenal. In the year 2001, this microphone was felicitated by the Electronic Musician's Editors Choice Award, in the under $1000 range.
Technically, the Audio Technica AT 4047 is very strong. With a large diaphragm, cardiod capacitor and transformer coupled output, the AT 4047 provides a smooth and beautiful sound. It has extremely low self noise and you can put the Audio Technica AT 4047 under all tests of modern day digital recording systems and you will be baffled by its high performance and incredible smooth sound. The mounted construction of the AT 4047 has the capacity to eliminate the handling and usage noise. Audio Technica claims that this masterpiece by them will take you back to the feel of the classical studio microphones, and believe me it does. The first time I used it I was mystified by the warmth, smoothness and sound clarity. Later I realized I didn't even use an equalizer. Hence I rate this product with a 5 star badge.
If you are really looking to make yourself and/or band's presence felt by the listeners, this microphone is the solution. This microphone gives a svelte sound and gets you a head start in this competitive industry. If we talk about the looks of the AT 4047 condenser microphone, it again scores very high with the steel shining metal finish, adorable gold plated diaphragms and a polished shock mount. Apart from incredible vocals, this microphone can act as a guitar or drum microphone, too.
You can purchase the Audio Technica AT4047 Condenser Microphone here

---

Technical Info:
MSRP: $895
Wide dynamic range of 140 dB without the built-in attenuator

Integral 80 Hz hi-pass filter

10 dB pad switch

Dual-diaphragm capsule
Be sure to check out the other Microphone Reviews