The Audio-Technica AT4047 provides professional, smooth and polished sound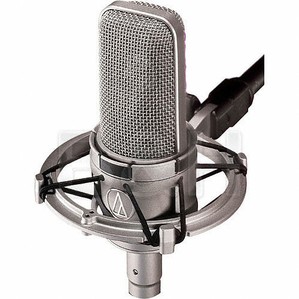 The sound is incredible from the Audio-Technica AT4047 microphone. It's smooth, warm, rich and full. If you record with this mic, it really sounds like you're listening to a professionally produced album. I was surprised that even I sounded good!

There's truly nothing bad to say about this professional microphone. The Audio-Technica AT4047 is a great buy – no ifs ands or buts about it.

---

Audio-Technica AT4047 Condenser Microphone: Professional Sound
Hot-looking microphone with great sound that's smooth and clean. I love it!
The Audio-Technica AT4047 is a professional microphone that'll truly rock your world. This isn't the kind of mic you buy to record your professor's lecture or to record tomorrow's To Do list. This is a professional piece of equipment that a singer or band should purchase if they're looking to record their demo or cut a new album.
The sound you get from the Audio-Technica AT4047 is like none you've probably ever heard. It's smooth and warm, and songs will flow like butter. It has gorgeous sound that both those new-to-the-industry and seasoned pros alike will adore.
I'm not a professional singer by any stretch of the imagination, but I gave the Audio-Technica AT4047 a shot. I was shocked that even without editing, my voice sounded like something I would hear on a CD. I mean, my voice still sucked and sounded awful but it sounded like professionally produced shrieking. I was impressed.
And let's face it, you'll love the way this mic looks – with sleek, shiny metal, and that clean, sexy steel grille. I love the way it attaches to the stand, too, and how it sort of floats there in its metal halo. This is an all-around fabulous microphone!
If you're looking for a way to really up the ante for your band and get noticed, then you need this microphone. The Audio-Technica AT4047 mic gives that polished sound you'll need to get ahead in a very competitive industry. You'll be amazed that your recordings sound just like they came off of a professionally produced CD.
---

Technical Info:
Transducer: Condenser
Polar Pattern: Cardioid
Frequency Response: 20 Hz – 18 kHz
Dynamic Range (Typical): 140 dB, (1 kHz at Maximum SPL)
Signal-to-Noise Ratio: 85 dB, (1 kHz at 1 Pa)
Maximum Input Sound Level: 149 dB SPL, (1 kHz at 1% T.H.D.)
Power Requirements: Phantom, 48v (±4v)
Output Impedance: 250 Ohms
Output Connectors: XLR-3M Type
Pad: Yes, 10 dB Pad; Roll-Off
Low Frequency Roll-Off: Yes, 80 Hz, (12 dB Per Octave)
Dimensions: 6.69 x 2.10" (170.0 x 53.4mm) LxDiameter
Weight: 14.5 oz. (410 g)
MSRP: $745
Were to Buy:
– Amazon Has the Best Price Click Here
You can find this Mic on this Insturment Pro Page. It may also be available on the American Musical Supply Site