A great condenser microphone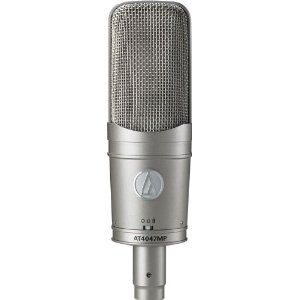 Ideal for home studio
Minimized unwanted internal reflection
Excellent for strings, acoustic guitar, instrument ensembles, vocals, small vocal groups, and voice overs.

Although an excellent mic, unless it is used a lot, the price is steep.

This microphone is easy to use and has great potential. Whether you are using it to sing or for instrumental use, you can rest easy knowing that it will give you the clear crisp sound you are expecting.
Check out today's price on Amazon here

---
Audio Technica AT4047MP Condenser Microphone Review

A great condenser microphone

The Audio Technica AT 4047 MP Multi Pattern Condenser Microphone is a very well known microphone for its vintage feel of sound. I came across this wonderful piece by Audio Technica while setting up my home project studio. I needed equipment and systems fitting my budget. I researched a lot from magazines, sites and online reviews. The first microphone in my list of items was the Audio Technica AT4047MP Mic, and till date I have never regretted buying it. I have used this microphone to record vocals, violin, acoustic guitar, flutes and also have used a pair as overhead for drums. Trust me this microphone has never let me down.
The AT 4047MP Micrphone offers multi pattern, like omnidirectional, figure 8 and cardoid patterns. The AT 4047 Mic gives a transformer coupled output, hence provides special tune elements and this makes it the best fit as a studio microphone. Audio Technica has designed the AT 4047MP Mic with utmost care, with a dual diaphragm, and given it a capsule design to increase the frequency response. The custom shock mount by Audio Technica provides high ranking isolation compared to its peers. Audio Technica has minimized the unwanted internal reflections by providing a symmetrical housing assembly. The AT 4047MP Microphone rates high as a versatile microphone with very low self noise, dynamic range and its excellence in vocals, strings and percussions.
Integrated high quality with adorable looks steals 5 stars for this microphone. It has a vintage matte finish, nickel plated brass and silver tinge which makes it truly endearing. Hence, if you are covering a classic, the Audio Technica AT 4047 Multi Pattern Condenser Microphone will provide you the best blend of vintage sound and feel. The AT 4047 MP has the looks to support the fame it has acquired over the years. Convinced by its performance and technology, the AT 4047 is certified by Music Engineering and Technology Alliance (METAlliance).
Purchase the Audio Technica AT4047MP Condenser Microphone here
---
Technical Info:

MSRP: $1055.00
Externally-polarized (DC bias) condenser

Three Switchable Polar Pattern: Cardioid, Omnidirectional, Figure-of-eight

Frequency Response: 20-18,000Hz

Dynamic Range (Typical): 141dB, 1kHz at Max SPL

Integral 80Hz high-pass filter switch and 10dB pad switch
Be sure to check out the other Microphone Reviews