Stereo mic that can be used in just about any situation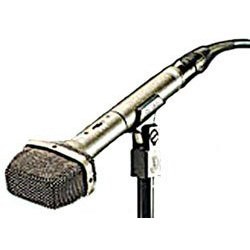 I like the versatility of this mic but the best part is how light it is, which makes portability easy. I also really like the clean sound of the Audio Technica AT822; it makes a big difference. This is especially important when you're recording. You'll always want to get the right sound with the right clarity and this one delivers – especially in one on one situations.

The mount was a disappointment. I had to switch it out for one I already own. The mic sounded much better that way. I would've liked to see a good isolation mount come with the mic. That would've made a massive difference in my overall opinion.

---

The Versatile AT822 Stereo Condenser Microphone
The mic itself is a great buy, it provides wonderful sound, but the mount needs work. This is the ideal mic if you already have a compatible isolation mount that you can use when needed.
The Audio Technica AT822 is an excellent microphone that hits a sweet spot between features and price. It produces extremely lifelike recordings that perfectly catch those troublesome bass sounds while maintaining crystal bright highs.
I tested this microphone by attaching it to a camcorder I used to record my nephew's high school symphony concert. Luckily, I ran a small test before using it in a live situation and found that the included mount picked up too much noise from the camcorder. So, I swapped the included mount for an isolation mount that I had lying around. What can I say, this worked like a dream. It's just too bad that the included mount wasn't able to work as well. The microphone is light yet sturdy and has a nice solid feel to it.
Something that I wasn't a fan of was the poor directional characteristics. Fortunately, I was close to my nephew's symphony while recording. Had I been farther, the microphone would've had difficulty picking up the entire audio spectrum clearly without extraneous noises. I say this is nitpicking because I know there are much better directional microphones out there specifically made for this purpose. However, for this jack-of-all-trades microphone, I still would've liked to see better directional capabilities.
All in all, for a midrange microphone, the Audio Technica AT822 is a good buy. Its great frequency response picks up clear highs and deep bass lines. Combined with a third party isolation mount, it's great at picking up camcorder sound. If you're looking for a high quality directional microphone, I can't recommend this. However, if you need a great semi-directional microphone on a decent budget, then look no further than the Audio Technica AT822.
---

Technical Info:
Element: Condensor
Dynamic Range (Typical): 101 dB, 1 kHz at Max. SPL
Polar Pattern: X/Y Stereo
Battery Type: 1.5V AA/UM3
Frequency Response: 30 – 20,000 Hz
Battery Current/Life: 1.2 mA/1000 hours typical
Open Circuit Sensitivity: -45 dB (5.6 mV) re 1V at 1 Pa
Switch: Off/flat/roll-off
Impedance: 200 ohms
Low Frequency Roll-off: 150 Hz, 6 dB per octave
Maximum Input Sound Level: 125 dB SPL, 1 kHz at 1% T.H.D.
Output Connector: 3-pin XLRM-type, unbalanced output
Signal to Noise Ratio: 70 dB, 1 kHz at 1 Pa
Weight: 5.8 oz (165 g)
MSRP: $419
Were to Buy: