A condenser microphone suited for acoustic guitar and vocal applications.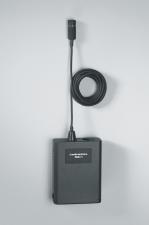 Can operate on both phantom and battery power. The cardioids system minimizes the pick-up of stray sounds from either the rear or sides of the microphone. The instrument adapter makes the microphone work excellently in picking up acoustic guitar.

It is difficult to get enough volume if you use the microphone in a noisy or large room that has no feedback.

Audio Technica Pro 70 enables you to say goodbye to heavy luggage, as all its components will fit into your guitar case.
---

Audio Technica Pro 70 Review
Perfect recording with the right adjustments
Audio Technica Pro 70 achieves a very dependable and consistent performance because of its full-sound pickup ability.
The microphone is ideal for both speech and music production.
The design of Audio Technica Pro 70 allows it to operate effectively without grabbing attention. It comes with a number of accessories, including a guitar mount and clothing clip, enabling the microphone to function like a clip-on lavalier.
The microphone is light and flexible enough to suit different applications in different positions. You do not have to worry about staying still to maintain the desired level with the microphone. The belt clip included with Audio Technica Pro 70 helps to attach it to a guitar, working as an interface to XLR microphone cable.
Audio Technica Pro 70 makes it possible to minimize noise in a room through the use of a low-frequency roll-off switch.
Where to Purchase:
Check Out Amazon Here
---

Technical Info:
Microphone dimensions: L – 25 mm; D – 10.2 mm
Power module dimensions: H – 83 mm; W – 63 mm; D – 22 mm
Microphone weight: 8 g
Power module weight: 134 g
Cable: 1.8 m connecting power module and microphone permanently.
Output connector: Integral 3-pin XLRM-type
Frequency response: 100 to 14,000 Hz
Impedance: Battery – 200 ohms; Phantom – 200 ohms
Low frequency roll-off: 80 Hz, 8 dB/octave
Polar pattern: Cardioid
Element: Fixed-charge back plate and permanently polarized condenser
Battery current/life: 0.4 mA / 1200 hours
Battery type: 1.5V AA/UM3
Be sure to check out the other Microphone Reviews