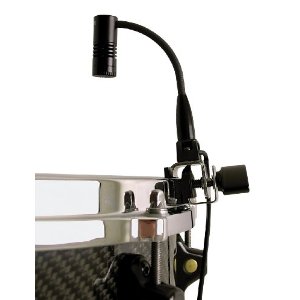 Miniature clip-on condenser microphone


Captures drum audio with ease
Small size allows it to be placed virtually anywhere
Durable and sturdy clip and attachment
Can be used with nearly all instruments

A bit more expensive than it needs to be
Won't perform as well as professional mics

The Audix F90, for its quality range, is a very tough mic to beat. Sure, it costs a little more than most competing miniature mics but it also performs quite a bit better. The question is this: Do you want a portable, miniature clip-on mic? If so, this is one that will perform all the tasks you ask of it. If you want to go a bit more professional, you can expect to pay more money and even then you may not end up with a mic of this quality.
---

Audix F90 Microphone Review
Anybody who has tried to record an album or a band rehearsal knows that the drums are one of the most difficult and annoying aspects to capture. One minute you're failing to capture the percussion and the next minute it's bleeding into the audio of other instruments. The Audix F90, though, attempts to end these annoying occurrences once and for all.
You'll notice right away that the Audix F90 is miniature and comes with a handy and durable clip. This makes it easy to place it in tight spaces; any drummer knows that tight spaces are easy to come by with even the most modest sets. You can place it in under cymbals, between heads, and nearly anywhere else you can imagine.
But does it pick up sound properly? Luckily, the answer is yes. The F90, thanks to its 50Hz-18Khz impedence, allows it to capture audio evenly and faithfully. The mount is also very trusty and dependable, ensuring that the mic won't fall off in the middle of a recording session. The phantom power adapter is another nice touch; it allows band mates to keep recording in the middle of a particularly inspired jam. And in case you think that the mic only works well with drums, keep in mind that it can easily handle complex guitar fretwork as well as most brass. It may cost a bit more than most mics its size, but it also outperforms the vast majority of them.
---
Technical Info:
• MSRP: $139.00
• Cardioid Polar Pattern
• Includes Phantom Power Adapter
• Sturdy Clip for Drum Attachment
• Fits in Tight Spaces with Ease
Be sure to check out the other Microphone Reviews