A tube microphone that delivers great recording quality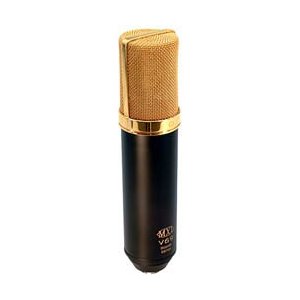 This microphone is ideal for a recording artist with a low budget. It gives quality recordings with great pickup on the lower and mid ranges.

Although this microphone handles the upper-mid ranges well, it does not work that well with the higher ranges.

---

MXL V69M-EDT Microphone Review
Gives nice vintage sound
A tube condenser microphone that stands above the rest, the MXL V69M-EDT, nicknamed the 'Mogami Edition', gives rich quality sound recordings that sound crisp and full-bodied. Although Chinese brands such as MXL are not considered to be the best in the microphone business, the MXL V69M-EDT dispels these beliefs at the flick of the on switch.
Although tube microphones are said to be better on the lower ranges and not that good in the upper ranges, the MXL V69M-EDT microphone plays a whole different ballgame with great performance on the upper mid-ranges as well, which makes it ideal for recording vocals and acoustic musical instruments. Acoustic guitars will sound harmonic and the various frequency ranges will be mixed nicely without any unwanted peaks in the recording. In essence, this microphone gives a nice 'vintage' sound that could only be expected from tube microphones.
The manufacturer MXL V69M-EDT microphone review specifies that the device requires a dedicated power supply of 110V/230V in order to function. As is to be expected, the only complaint about this microphone is that it does not capture the higher ranges of sound as nicely as we would like, which is a common bane of all tube microphones.
However, the MXL V69M-EDT microphone has gone a long way towards solving this problem.
In conclusion of this MXL V69M-EDT microphone review, it should be said that the product delivers value for the money it costs.
Where to Purchase:
Check Out the InstrumentPro Here and Amazon Here
---

Technical Info:
Type: Pressure gradient tube condenser mic
Diaphragm: 6 micron gold-sputtered
Capsule Size: 32mm/1.26 in.
Frequency Response: 20Hz -18kHz
Polar pattern: Cardioid
Sensitivity: 22 mV/Pa
Output Impedance: 200 ohms
Equivalent noise: 22 dB (A-weighted IEC 268-4)
S/N Ratio: 72 dB (Ref. 1 Pa A-weighted)
Max SPL for .5% THD: 140 dB
Power Requirements: 110/220VAC, 50-60Hz/Dedicated power supply
Size: 47mm x 218mm/1.85 in. x 8.58 in.
Weight: 1 lb/498.95g
Metal Finish: Black with gold grill
MSRP: $399.95
Be sure to check out the other Microphone Reviews