Large diaphragm tube condenser for about $200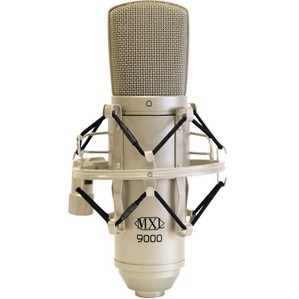 The MXL9000 is a very affordable large diaphragm condenser microphone with a nice smooth sound to it. It is an excellent project studio mic for vocals.

Although it has a very silky, clear sound, it comes off a bit thin – lacking warmth on the lower end of the frequency spectrum. It doesn't have a very distinct character.

---

MXL 9000 – Affordable Large Diaphragm Condenser Mic
The MXL 9000 is a great project studio mic that produces a smooth, clear sound.
A large tube condenser for $200 is a good deal. The MXL9000 Large Diaphragm Vacuum Tube Condenser Mic is quite nice. It has a very clear sound and works really well for vocals. I've also used it as a room mic with pretty good results. Its frequency range extends from 30 Hz to 20kHz, leaving a bit of a gap on the very low end, but its tube circuitry allows it to retain a modicum of warmth. I wouldn't recommend it for kick drums or anything with very rich bass tones. It's nicely designed, it looks pretty cool, and comes with a shock mount and power supply. For a project studio, this microphone is a wise choice.
It is very affordable and sounds a bit better than its price suggests. It's definitely a value. The MXL microphones are also available at many retailers, making it easy to acquire one. It is a versatile microphone with a professional sound, good for both vocals and instruments. This is a very good mic for a starter/project studio or just for a tube condenser that won't set you back too much.