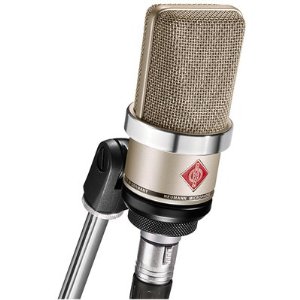 Clear sounding condenser microphone


Picks up sound like a dream
Pressure Gradient Transducer

It is pricey. Worth it, but pricey none the less

The Neumann TLM 102 Condenser Microphone is a great buy. It can be used for home style recordings, or for crowd pleasing concerts. It is compact and picks up sound better than you could possibly imagine. This is a great mic!
---

Neumann TLM 102 Condenser Microphone Nickel Silver Review
Neumann TLM 102 sticks out of the regular Neumann range of microphones due to its ultra compact design. But don't be baffled if this small microphone provides you with high clarity and unbelievable sweetness in the voice. I was desperate to put my hands on a Neumann and then I discovered this compact and incredibly powerful microphone.
I believe that this product from Neumann is far more versatile than its peer group. It contains a large diaphragm and cardioid capsule which makes it stand as a next generation microphone. After using a Neumann TLM 102 personally I have noticed that its small size allows me to have a clear line of sight with the control room during recording, or with my band while rehearsing. Another striking feature of the TLM 102 is until the frequency of 6kHz, the response is linear and above it Neumann has put a slight boost which strengthens the voice and hence adds sweetness to your voice.
Neumann states that TLM stands for "transformerless microphones". This technology has replaced the output transformer with an electronic circuit which guarantees low noise and high clarity. I have previously used microphones with transformers and trust me the TLM technology by Neumann is worth its price. Adding to this technology the internal elastic suspension diminishes any noise created by handling and usage.
Another aspect that convinces me to give Neumann a rating of 5 stars is the affordable price. By combining so many flexible features with an unbelievable price Neumann has catered to the needs of both professional and project studios, including live sound. I am absolutely in love with the voice of this microphone and looking forward to use it in my next recording.
Purchase the Neumann TLM 102 Condenser Microphone Nickel Silver here
---
Technical Info:
• MSRP: $699.95
• Exceptionally Compact
• Suppresses structure-borne noise
• Pressure Gradient Transducer

Be sure to check out the other Microphone Reviews