Small diaphragm condensers with multiple capsules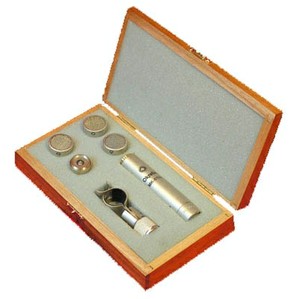 This little condenser microphone produces a lovely bright sound and comes with three separate capsules that screw on and off to alter the polar pattern.

They are somewhat delicate and any roughhousing they undergo may cause damage to the microphone.

The Oktava MK012 is a reasonably priced microphone that sounds really good. They're especially great as a matched stereo pair.
---

Oktava Hits a Winning Note With the MK012
Small, high quality microphone at a nice price.

I'm a sucker for stuff that comes from Russia, and the Russian-made Oktava microphones are really awesome. The MK 012s are small diaphragm condensers that are best when purchased as a matched pair. An affordable and worthy alternative to Nuemann's KM series small condensers, they come with three separate removable capsules that screw on and off so they may act as cardioid, omni or hypercardioid mics. They are rather lightweight and delicate so handling them with care is very important. In terms of sound quality, I think they're quite good for what they cost. Great for stereo miking arrays, they make for really nice drum overheads. They have a bright, crisp sound and can work well miking string instruments and acoustic guitars with enough low frequency response to keep it nice and warm. With a range of 20-20,000Hz, they're good for almost anything. They produce a very accurate sound.
A single Oktava MK 012 costs about $315 and for a matched pair, $635. The pair is worth buying and they come in either silver or black. The Oktava mics can be kind of tricky to find. There are only a few retailers listed on the Oktava site, but these gems are certainly worth the effort.
---

Technical Info:
Type: Condenser
Frequency Response: 20 to 20,000 Hz
Polar Pattern: Cardioid, Omni, Hypercardioid
Impedance: less then 300 ohms
Price: single: $315, matched pair $635
Be sure to check out the other Microphone Reviews

Were to Buy: