Versatile microphone perfect for many recording situations.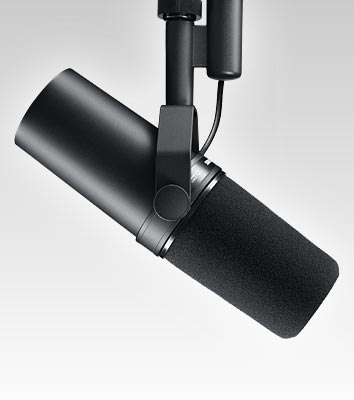 The super clear recording capability that you get with this mic is fantastic. You can use this microphone for so many things, like recording speaking and singing voices in the broadcasting studio or even for podcasting. This makes this mic wonderful for all kinds of people. The internal air suspension is another great aspect of this microphone. I love it!

I'm afraid there's nothing negative to say about this great microphone. It's good all around!

This is a fabulous microphone, especially for the price. It's extremely versatile and the sturdy construction and the internal air suspension works to make this one of the best mics on the market for recording speaking voices.
---

Say It Loud And Clear With The Shure SM7B Microphone
I love how versatile this microphone is. It's great for so many recording situations and the quality is topnotch.

The Shure SM7B Microphone with switchable response is by far one of the best deals available in the category of voice recording microphones. The price on this broadcasting microphone is so ridiculously inexpensive that it's hard to imagine it can outperform many of its $2000 and up counterparts. Several of the more popular audio magazines have reviewed the Shure SM7B and the results are spectacular.
The Shure SM7B comes with two windscreens: one for general use and one for people who like to speak close to the microphone. These are both pretty standard but still very much appreciated. They're also of high enough quality for production work. The "internal air suspension" works really well at reducing movement noises. The shielding on this microphone is also topnotch. While testing I noted negligible interference. In an a/b test against a much more expensive microphone, the Shure SM7B actually outpaced it.
The Shure SM7B seems to have a much smaller dynamic range than more expensive microphones and while at first this would seem like a negative, in fact it's a positive. This means the microphone doesn't pick up nearly the same amount of background noise as do other mics.
Although the Shure SM7B is made mainly for recording speaking voices, it can do double duty and record musical vocal tracks. The podcasting community should be jumping on this product like it's the next best thing since sliced bread. Its ridiculously low cost and incredible performance make it perfect for both amateur podcasters and professional broadcasting.
Beyond the excellent performance of this mic, you will also find the construction particularly brilliant. Absolutely everything from its mounting hardware to its windscreens are impressive and don't give any indication of its low price tag.
The Shure SM7B is definitely a best buy. It performs better than most $2000 plus microphones, has a great sturdy construction, and its internal noise dampeners will keep your speech crisp and clear.
---

Technical Info:
Polar Pattern: Cardioid (unidirectional)
Impedance: 150 ohms (150 ohms actual) for connection to microphone inputs rated at 19 to 300 ohms.
Polarity: Positive pressure on diaphragm produces positive voltage on pin 2 relative to pin 3. Output Level (at 1,000 Hz), Open Circuit Voltage*: -59.0 dB (1.12 mV) *0 dB = 1 volt per Pascal
Electromagnetic Hum Sensitivity (Typical, Equivalent SPL/milliOersted): Hz: 11 dB, Hz: 24 dB, 1 kHz: 33 dB
Switches: Bass rolloff and mid-range emphasis: Slotted response selector switches.
Cartridge Shock Mount: Internal air-suspension shock and vibration isolator.
Microphone Connector: Three-pin professional audio (XLR)
Swivel Assembly: Integrated, captive nut for ease of attachment to stand, fits 5/8 in.-27 thread.
Case: Dark gray enamel aluminum and steel case with dark gray foam windscreen.
Net Weight: 765.4 grams (1 lb, 11 oz)
MSRP: $619
Be sure to check out the other Microphone Reviews

Were to Buy:
You can find this Mic on this Insturment Pro Page. It may also be available on the American Musical Supply Site