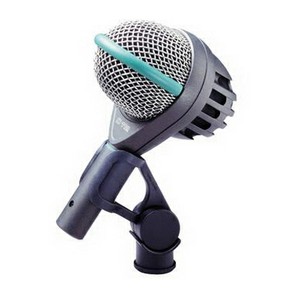 The AKG D112 is universally accepted as a "kick drum microphone." It is a common favorite for this job. It also performs very well on other bass instruments including trombones and bass cabinets.

Because of the way the AKG D112 is designed, it doesn't handle high frequencies very well. This puts it in kind of a specialized box, so to speak, concerning its usage.

---
AKG D112 – Dynamic Cardioid Microphone
Very good kick drum microphone, durable with great low frequency handling.
Thinking there was one end-all-be-all kick drum microphone seemed somewhat suspicious to me, but through some experiments with various mics, I found that the D112 definitely stands up to it's reputation. Being somewhat of a heavy-footed drummer, I have always cringed a bit at putting condensers on the bass drum. I've gotten some really good sounds this way, but I love the D112 because it can withstand some seriously loud drumming. Boasting a 160 SPL capacity, it can more than adequately handle the volume of a bass drum.
The AKG D112 is a dynamic cardioid microphone with a specially designed, large diaphragm that can firmly handle bass response below 100Hz without audible distortion, or as the folks at AKG like to put it, "Virtually unmeasurable THD." There is a narrow band presence rise at 4 kHz which allows the punch of the kick drum to shine through without EQ. The D112's great response to very low frequencies also makes it well suited for bass cabinets and low brass instruments. It is very rugged and surprisingly lightweight.
This microphone runs about $220, but it is a very good investment. It is the industry standard for kick drums and a generally good microphone to have around for recording anything that produces any sort of bass.
---

Technical Info:
Type: Dynamic
Frequency Response: 20 to 17,000 Hz
Polar Pattern: Cardioid
Sensitivity: 1.8 mV/Pa; -55 dB (re 1V)
Impedance: 210 ohms
Price: $220
Were to Buy: