Great sound quality for close-up vocals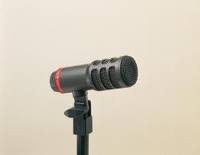 The microphone has the ability to handle very high SPL while it operates at close range. The rugged construction with multi-level grille makes it ideal for both indoor and outdoor use.

It is not suited for live performance if there is no sound amplification. You may also experience some pickguard problems.

Audio Technica ATM25 is a light microphone that makes it easy to carry. You are also bound to enjoy the base quality. However, the pickguard issues can not only be irritating but also interfere with quality of production.
---

Audio Technica ATM25 Review
Perfect recording with the right adjustments
The microphone has a superb double-bass capability, which is especially suited for live performances. It provides a significant amount of gain before suffering from any feedback problems. Whether you are using kick drum, trombone, or any other loud and low bass instrument, the bass cabs are fantastic. It also sounds great on a snare drum and electric guitar. Audio Technica ATM25 is basically a bass microphone since it operates in the low frequency range, from 30 Hz to 15 KHz.
If a band is being recorded in the same room, the hypercardoid quality of Audio Technica ATM25 will prove very useful. Although it is good to have bleed, there are situations when you may wish to control it.
You may also use the Audio Technica ATM25 microphone for voice-over applications. This should not be much of a problem in spite of the absence of a roll-over switch.
This dynamic microphone works well both in the recording studio and on stage, although you may need significant amplification.
Its rugged construction and lightness makes it ideal for carrying.
Where to Purchase:
Check Out Amazon Here
---

Technical Info:
Polar Pattern: Hypercardioid
Element: Dynamic
Weight: 13.8 oz (390 g)
Impedance: 600 ohms
Frequency Response: Between 30 and 15,000 Hz
Output Connector: Integral 3-pin XLRM-type
Open Circuit Sensitivity: -54 dB (1.9 mV) re 1V at 1 Pa
Dimensions: 4.63" (117.5 mm) long, 1.61" (41.0 mm) head diameter
Accessories: Integral stand clamp for meant for 5/8"-27 threaded stands and a soft protective pouch
Be sure to check out the other Microphone Reviews