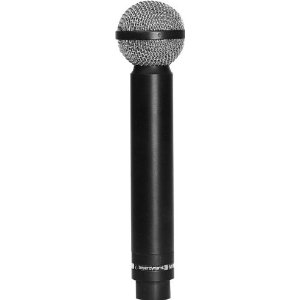 Handheld vocal microphone


Double ribbon design
Splendid sound reflection of external noise
Small and compact design

This microphone comes at a price that may be dear to some. If you are serious about your music, though, this is the way to go.

Beyerdynamic is ideal for remote and in studio vocal reproduction. It is the top pick for recording acoustic stringed musical instruments like violin, cellos, and violas. As the black chrome surface of the M160 prevents glare, this microphone can be used easily for filming. It is an an ideal mid mic for the stereo M-S recording technique. For the money, you can't get a better double ribbon mic!
---
A double ribbon microphone

Beyerdynamic M 160 Dynamic Double Ribbon Microphone Review


Beyerdynamic M160 Double Ribbon microphone is a stupefying example of the fusion of classical characteristics and modern technology. Beyerdynamic has registered its name in the list of very few companies that still provide ribbon microphones. For those of you unaware about ribbon microphones, let me state they were the most used and popular microphones during 70's and 80's. Many thanks to Beyerdynamic for inculcating innovative technology in ribbon design and letting it compete with the modern day microphones. Unlike other ribbon microphones which are figure-8, M 160 has a hypercardiod pattern.
Ribbon microphones are famous for smooth highs and M 160 by Beyerdynamic has not let this feature fade away. Beyerdynamic M 160 has an ultra-fast response and provides superior details. Earlier I used Beyerdynamic M 160 as an overhead. as many users recommend that, but the frequency response for me was high and the pick up pattern was relatively narrow. However, when I used it in front of my guitar I was awestruck by its performance and clarity. Violin, tambourine and saxaphones are other instruments which will respond so well to the Beyerdynamic M 160 that you would add it to your must own list. You can use M 160 as a one kit microphone for drums, or you can try it on hi-hats, snare or toms.
The chromium plated non glare surface of M 160 double ribbon microphone and its small and compact design make it an appropriate microphone for television and filming studios. As the name title suggests, the Beyerdynamic M 160 has two ribbons, each of them is two thousandths of a millimeter thick arranged as one above other around half a millimeter apart. I will rate M 160 double ribbon as 4 ½ stars product, as it is a technical masterpiece from Beyerdynamic. This microphone has an expertise to make your strings and percussion sound clearer and sharper.
Purchase the Beyerdynamic M 160 Dynamic Double Ribbon Microphone here

---
Technical Info:
MSRP: $799.00
Unique double ribboned microphone
Weight: 156 grams (5.5 oz.)
Operating principle: pressure gradient
Be sure to check out the other Microphone Reviews