Condenser Shotgun Microphone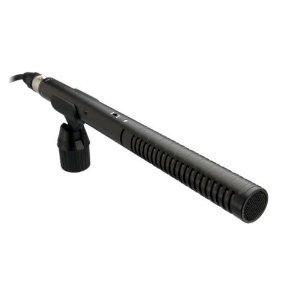 Rode NTG-2 Battery or Phantom Powered Condenser Mic is a lightweight shotgun condenser mic which offers professional quality audio recording both indoors and outdoors. It also offers clean and clear audio output.

It can produce an annoying humming sound at high volume. The mic tends to pick up handling noise as well. It is important to have the mic at the right distance: too far and it won't pick up sound well; too close and the sound will be too muddy. Also the battery life is not great.

While the mic is durable, yet lightweight and easy to use with decent audio, it has a problem with bass in a loud environment. As a shotgun mic it is not bad at all and gives reasonably natural sound. It also has a super-cardioid pick-up pattern.
---

Rode NTG-2 Battery or Phantom Powered Condenser Mic
Battery or Phantom Powered Mic
This condenser shotgun mic offers professional quality audio recording. It has a narrow pick up pattern for clear recording. Designed for use by film, video, television and other sound professionals, the Rode NTG-2 Mic is great for voice over work by media professionals. It works both on phantom and battery power.
It comes with a windscreen to minimize extra sound and works gives decent sound. It also works with a boom or hotshoe. The sound sometimes does not sound great in the mid-range, but for the price it offers quality sound and does the work.
Where to Purchase:
Check Out Amazon Here
---

Technical Info:
• Low noise circuitry
• Two step High-Pass Filter – Flat or 80Hz
• Condenser transducer
• Rugged construction despite low weight of 161g (5.17 oz.)
MRSP : $269
Be sure to check out the other Microphone Reviews