SVM Condenser Microphone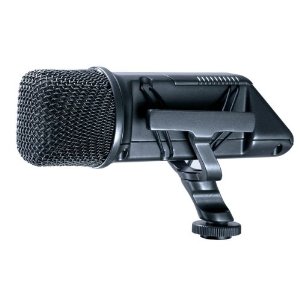 Nice, solid construction
Sensitive enough to pick up normal conversations even when in noisy environments
Clear, quality sound recordings
Effective and responsive customer service for questions or warranties

Could have a mount issue depending on the camera you have
Level is very low if you have AGC turned off
May have some wind noise, even with the caps provided
Better recording for short range as opposed to long range recording

The RØDE Stereo VideoMic has excellent reviews, and they are all well deserved. Built to last in craftsmanship as well as quality technology, it is hard to beat this microphone. If you are looking for a microphone to add on to your camera that works almost flawlessly and lasts for a long time, this is the microphone for you. Although it is a high priced microphone, you will see once you receive it that it is well worth the price for the quality of product that you receive!
Check out today's price on Amazon here

---
RØDE Stereo Video Microphone Review

SVM Condenser Microphone
Those who use microphones on video cameras know that blocking out that outside noise and focusing on the target can be frustrating and a hard task. Wind noise is a huge problem when using a microphone, especially those that come built in to your video cameras. That is why this particular microphone is so beneficial as an addition to your video camera. The RØDE Stereo VideoMic does a great job of picking up those priceless conversations and sound recordings while not having these recordings be thwarted by the useless background noise.
This purchase includes the RØDE StereoVideoMic, 3.5mm cable, 3/8" thread adaptor, shock mount, custom windscreen(which is highly praised), accessory shoe, and the user's manual and warranty card. Users who have had any problems or questions about this product have given excellent praise to the company's responsiveness to phone calls or emails, so make sure to fill out the warranty card for this kind of purchase. It could definitely come in handy!
The ability of this microphone to pick up sound is amazing. It is better suited for recording close range recordings and does a fantastic job of blocking out the sound behind the camera and focusing on the sound coming from the front side of the microphone. If you would rather use it as a stand alone mic, you can do that as well. For most, it will be used as a mic addition on a camera, and it does a fantastic job! Sure, the cost of this microphone is out of the price range for some people, but if it meets your budget and you are looking for a high quality microphone, definitely buy this one! It is well worth the price!

Purchase the RODE Stereo Video Mic here
---
Technical Info:

MSRP: $349.00
Two-step high-pass filter

Powered by one 9V battery

X/Y configured, super cardioid stereo microphone

Equipped with windshield but also includes a windscreen
Be sure to check out the other Microphone Reviews