A condenser microphone suited for acoustic guitar and vocal applications.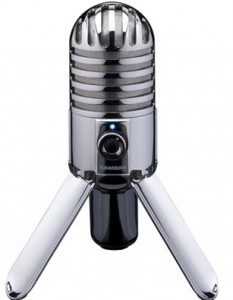 It has a 25 mm condenser diaphragm,16 bit audio, great versatility with other programs and strong rubber feet .

A bit pricey, and the mute switch can get in the way for some people.

Samson Meteor Mic is great for adding quality audio on your computer. You can also use the mike for video chat and podcasting, as well as with iPad and Garageband, so it is very versitile.
---

Samson Meteor Mic Review
Perfect recording with the right adjustments
Price: $99.00
Anybody who has tried to record quality audio on their computer knows how important the microphone is. Unfortunately, most of the high quality mics on the market can cost a pretty penny, a fact that isn't very encouraging to someone who likely just plunked down a lot of dough on multitrack recorders, musical instruments, and all the other accoutrements that come with music recording. Thankfully, the Samson Meteor Mic goes a long way toward meeting the happy middle ground between low cost and high resolution.
The Meteor Mic plugs into the USB port on your computer and sits compactly and comfortably wherever you place it. This gives you the chance to experiment with acoustic distances and unconventional recording methods. Many USB mikes give you this kind of versatility, but the Meteor Mic ups the ante by offering a 25 millimeter condenser diaphragm. This puts it head and shoulders above competing USB mics and puts it in the same league as professional recording mics. This fact is further bolstered by the 16 bit audio and 44.1/48khz resolution.
Another aspect that brings the Samson Meteor Mic closer to professional recording mics is the fact that it accommodates a headphone outlet so that you can further micromanage your music. A mute switch is present on the mic as well, allowing you to use it for other options like video chat, podcasting, and much more. Also, since the mic is compatible with the iPad and Garageband, it is one of the most portable recording devices around, allowing users to record impromptu jam sessions no matter where they may be. This aspect, perhaps more than any others, goes a long way toward showing why the Samson Meteor Mic continues to be one of the most popular USB microphones for amateur musicians. But it isn't just musicians that can make the most of the the Meteor Mic. With convenient rubber feet that allow it to sit innocuously anywhere and everywhere, people of all backgrounds can make sweet music with the Meteor mic.
Where to Purchase:
Check Out Amazon Here
---

Technical Info:
25 mm condenser diaphragm
16 bit audio
great versatility with other programs
strong rubber feet
44.1/48khz resolution
Be sure to check out the other Microphone Reviews