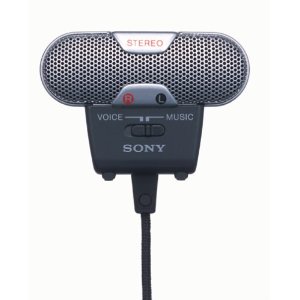 -Good value for the amount of performance it delivers
-Faithful, organic stereo recording
-Quite a bit of versatility (music, podcasts, filming)

-Few extras and add-ons
-Some issues with the wire

For its price, it is hard to recommend a better stereo mic than the Sony ECM-719. Though complaints have been few and far between, do keep an eye out for the structural integrity of the cord. In short, the mic performs admirably so long as you don't continuously put it through the wringer.
---

Sony ECM-719 Mic

Price: $54.99
The first thing that typically catches one's eye when looking at the Sony ECM-719 is the interesting shape of the mic. Whether its appearance attracts or detracts you comes down to personal taste, but there is definitely a method to the madness: The insect-like compound eye shape of the speaker is designed to capture the most faithful real time stereo audio, making it (in theory) the perfect mic for recording outdoor ambiance and other complex sounds. But does the ECM-719 really pack the punch it advertises?
Audio Quality
The ECM-719 does seem to deliver on its stereo audio capabilities. People using the mic with HD camcorders will be pleased with the extra sound quality that it delivers. Those making podcasts will also be happy to know that the mic can pick up even the faintest whispers within range and keep them crisp and faithful.
Price
The ECM-719 generally costs between fifty and sixty dollars and, as long as you don't expect too much out of the machine, the value is pretty great. More expensive stereo mics have delivered far less capable fidelity than the ECM-719. The mic doesn't come with too many extra accessories, but the truth is that it doesn't really need anything more than what is offered.
Dependability
Sony's new mic continues the company's trend of delivering tough, durable audio equipment to the public. Though many people will use the ECM-719 for low-key work, like recording meetings and interviews, they'll be happy to know that the mic performs well under more extreme outdoor camera work. The cord could stand to be a little stronger, but for the vast majority of actions performed with the mic, it should retain its integrity.
---
Technical Info:
-designed to capture the most faithful real time stereo audio-compact
-music/meeting mode switch
Be sure to check out the other Microphone Reviews