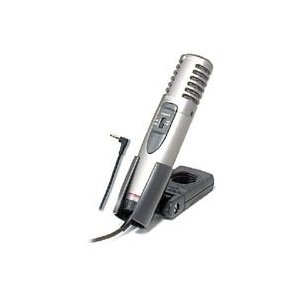 -Very Durable Design
-Competitive pricing
-Healthy amount of features

-Underwhelming sensitivity
-Often requires considerable volume for proper recording

Though making the perfect digital mic is still a challenge that has yet to be overcome, the Sony ECM-MS907 certainly stands above many competitors in the crowded field. Casual musicians as well as anybody needing a mic to record lectures or video will enjoy this mic, but diehard recorders may wish to spend more money on a more refined product.
---

Sony ECM-MS907 Mic

Price: $68.89
For seasoned musicians, the idea of a digital mike that can meet and exceed all expectations remains a pipe dream. That being said, the Sony ECM-MS907 comes as close as any recent competitor at meeting at least some of these lofty ideals. This shouldn't come as a surprise to those familiar with Sony's high fidelity capabilities in the digital sphere, but the ECM-MS907 is still far from a perfect mic.
Versatility:
One bright side of the mic is the fact that it can deliver pretty crisp stereo recording with one small condenser. The mid/side switch also goes a long way toward customization, allowing you to switch between more intimate recordings and multi-instrument tracks. The mic also works well with many different recording systems, a big plus in digital recording. Still, it seems that the ECM-MS907 might have benefited from more sensitivity. Picking up audio from further away can be a pain, and the source needs to be quite loud to be effectively picked up.

Affordability:
For costing around seventy dollars, Sony's new mic does offer a pretty healthy amount of capabilities. The OFC cable ensures top fidelity and dependability and the whole thing runs on a single AA battery. It lasts for quite a while, too. Unfortunately, there are a few omissions that would have been nice to have. A sensitivity switch would have taken care of the troublesome audio discrepancies, for example.
Durability:
On the bright side, you can't ask for a more rugged digital mic. The mic itself is very portable and compact yet it can withstand quite a bit of abuse. It also comes with a handy travel pouch and a wind screen. This is definitely a mic you can take on the go and even use in an emergency situation as a backup. Consider it when recording a concert in undesirable weather conditions.
---
Technical Info:
Runs on a single AA battery.
Crisp stereo recording.
Be sure to check out the other Microphone Reviews