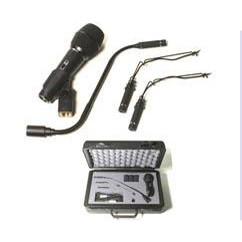 Everything's included in the kit: it has mics for the choir, the podium, and even an extra vocal mic. I love the hard case, too.

Three choir mics would have been better than two for larger churches.

---
A Closer Look At The Audio Technica KP-Worship Kit
This mic kit is certainly worth what it costs because there are so many different items included and they're all very important.
This kit has all kinds of goodies that you can use to really pep up your church and its choir. I love the podium microphone. When used as a separate mic, it's great. The sound is big and booming without distortion, and the extras are topnotch, as well.
To be quite honest, I was a little surprised to find these choir mics were as good as they are. I'm not sure why that is, maybe because they're so small and to get a lot for the price seemed like asking too much. However, they brought home the sound in a big way.
When it comes to a church choir, sound is vital. These mics need to be able to pick up all of the different voices in a choir without losing any of them. I could easily hear everyone with this mic set. I was really happy to be able to hear all of the highs and lows that the choir mics picked up. They gave a well-rounded, full-bodied sound that was very enjoyable.
Then there's the extra vocal mic that comes in the Audio Technica KP-Worship Kit. This, too, is fantastic and adds even more enjoyment to the sound quality. No one at church will miss a beat! There are lots of aspects that need to be covered when it comes to buying a microphone for church, but this kit covers all your bases; that's why I love it so much. I love the idea that people can get all the components they need for the price of one podium mic.
It's wonderful and they come in a hard shell case, too, so you won't have to worry about damage during transportation.
---

Technical Info:
Model Name: KP-Worship
Component Type: Microphone
Remote Control Description: None
Connectivity Technology: Wired
Audio Input: Microphone
Microphone Form Factor: External
Microphone Technology: Dynamic
Audio Sensitivity: 54 Db
Product Dimensions: 14 x 11.8 x 4.5 inches
MSRP: $244.99
Were to Buy: