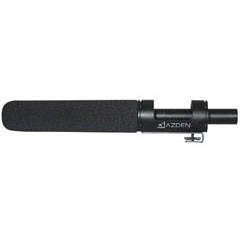 With versatile mounting options and the possibility of going wireless by plugging into the 41XT transmitter, this shotgun is perfect for use with smaller consumer video cameras.

Although this shotgun is nicely priced, it won't blow you away the way a Shure or Sennheiser will.

---
Azden Barrel SGM-1X Shotgun Mic with XLR Outputs
For low budget productions, the Azden Barrel SGM-1X Shotgun Mic is perfect
Shotgun mics are highly directional microphones used to record on set audio such as dialogue. The Azden Barrell Shotgun Mic is a particularly affordable shotgun mic that really blows the built-in camera microphones out of the water. It provides far better audio and is quite versatile. Its integrated shock mount attaches to a camera shoe or mic stand. This allows lots of options for placement and the ability to plug in the 41XT transmitter also makes it possible to go wireless. Although there are much more professional shotgun mics on the market, this one is particularly good for less than $200. For low budget productions, it is excellent.
---

Technical Info:
Frequency Response: 80-18,000Hz
Sensitivity: Super Cardioid -41dB re 1V/Pa
Impedance: 680 Ohms @ 1Khz
Max. SPL Input Level: 110dB
Signal to Noise Ratio: 65dB
Dynamic Range: 80dB
Battery Type: AAA (1.5V) – use alkaline battery
Battery Current: 0.2mA
Battery Life: 1000 Hours w/Alkaline Battery
Weight w/o Battery: 4.76oz (135grams)
Dimensions: 11.8" (300mm) length 0.83" (21mm) diameter
Output Type: 3-Pin XLR type
Supplied Accessories: Shock mount mic holder, 1 Windscreen Suggested
Retail: $225
Were to Buy: