Compact and small camcorder microphone.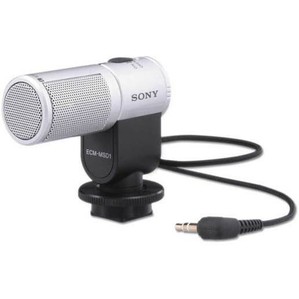 I really like the small size of this camcorder microphone. It's ultra convenient and can fit into the smallest camera bag easily. The sound is amazing, too. It's clear and its directionality makes it stellar. You can record group or individual sound – it rocks!

The hot shoe feature doesn't work with all Sony camcorders so you'll need to check. Unfortunately, this integration isn't possible with all cameras. In the case the hot shoe doesn't power the mic, you'll have to use a battery, which is a pain because it'll need to be turned on/off independent of the camera.

Overall, this is a pretty good microphone for many Sony camcorders. The sound is fantastic but this mic won't work with all models or all hot shoes. You might have to put a battery in, adding weight as well as hassle.
---

The Small And Compact Sony ECMMSD1 Camcorder Microphone
This camcorder microphone has some definite pros and cons, I like the convenience of this small mic but it can't integrate well with all hot shoes.

Look how small the Sony ECMMSD1 camcorder microphone is. I love how it's compact and convenient, making it the perfect accessory for a compatible Sony camcorder. Mounting it on the camera is super easy. Each Sony has a cap on the top, just pull it off and slide the mic on. It literally takes two seconds – no muss, no fuss.
The pickup is awesome on this mic. It has switchable pickup patterns. You can go with 90 degrees or 120 degrees depending on what best suits your situation. I love how you can easily adjust the pickup for group settings or individual settings, this makes recording so much easier and clearer. I could easily see using this microphone on vacation, maybe at the beach with the family or even at a wedding.
There's one thing that I really don't like about this camcorder mic: on some models, it doesn't power directly from the camera as other mics do. You'll have to use batteries and remember to turn the mic on separately from the camera. This is probably not a big deal for people new to the concept of a cam mic but it may pose a problem to others accustomed to the mic automatically turning on with the camera. I imagine there are/will be many who'll forget to turn it on and will lose out on a lot of sound.
I like the sound quality through this mic. If you remember to turn it on before taping, you'll get some wonderful sound footage. It's clean and clear and the directionality makes it so much better. Just remember you also need to turn it off after use or the battery will die.
Whether the Sony ECMMSD1 camcorder microphone will work with your Sony hot shoe depends on the model you own. Your best bet is to double check with the store you plan on purchasing it from. That way, you don't buy it and bring it home only to find it won't work.
---

Technical Info:
Switchable pickup patterns: Yes. 90 degrees or 120 degrees Dimensions (without nobu, cord): Approx. W 27 x H 60.5 x D 72.5 mm (1 1/8 x 2 1/2 x 2 7/8 inches)
Weight (with battery): Approx. 50g (1.8 ounces)
Material: ABS
Color: Silver/Black
Intelligent Accessory Shoe on the following camcorders cannot be used with the ECM-MSD1: DCR-TRV19, DCRTRV22, DCRTRV33, DCRTRV38, DCRTRV39, DCRTRV80, DCRVX2000, DCRTRV900
MSRP: $99.99
Be sure to check out the other Microphone Reviews

Were to Buy: