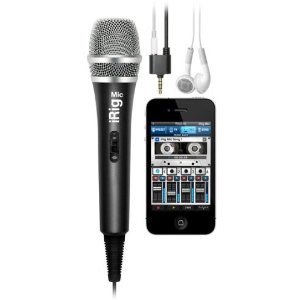 It is simple to use and seems durable and heavy duty. IK Multimedia has also released several apps which can be used with this mic, including VocaLive for vocal processing effects, AmpliTube for adding guitar and iRig recorder for quick recording. Apart from these, it works with other apps as well to enhance the vocal effects.

On the flip, side while the mic is a condenser electret one with a solid metal grille, it is also unidirectional.So it will not record from the rear or sides and has to be pointed straight for a better sound. Also it does feel a bit heavy in the hand.

Easy to use, plug-in mic which can provide recording facilities on the go. Obviously, for a small product like this one, it is not going to produce professional quality recording. It is certainly good value for money and better than many other similar products.
---
IK Multimedia iRig Mic
Handheld Microphone For iPhone, iPod and iPad
Whether you are an amateur or professional and you want to record quality sound on your iPhone, iPod or iPad, IK Multimedia has just introduced the iRig microphone which can do just that. This handheld microphone can be used for recording anything when on the go, whether a musician want to record a song or a journalist who wants to record an interview. It can also be used for podcasts – in fact, for any kind of recording.
The iPhone, iPod and iPad do have built-in mics, but these do not produce great sound. The IK multimedia iRig mic simply plugs into your device and you are ready to record good quality audio.
It has a three level gain switch which you can adjust for the kind of sound you want. While you can use it as a handheld, you can also put it on a stand if you want for hands free usage. Thanks to the apps you can add sounds to your vocals, if you are recording songs for example.
It works with all sound apps and offers real time monitoring. As long as your expectations are realistic and you do not expect studio quality recording, you ought to be pretty satisfied with this mic
---
Technical Info:
• Unidirectional condenser-electret microphone for quality sound
• Mini jack connector for monitoring on headphones, speaker, mixers
• Durable metal housing
MRSP: $59.99
Be sure to check out the other Microphone Reviews