A precision machine that gets rid of low frequency distortion.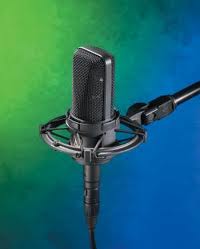 Audio Technica 4033 allows superior isolation because of the custom shock mount. The floating construction capsule provides good isolation from vibration while allowing optimal sensitivity.

The shockmount is shocking with the rate at which it tears up. This is due to the use of cheap rubber bands, yet replacing the shockmount can prove pretty costly.

Audio Technica 4033 works great although it is a bit wanting with the low mids. Overall, the mic is recommended for both private and public uses.
---

Audio Technica 4033 Review
Perfect recording with the right adjustments
The circuitry of Audio Technica 4033 does not use any transformer, which removes distortion; hence creating a very clean signal. The circuitry provides a very quick transient response. Its nickel-plated brass element provides a great deal of stability and enhances sensitivity. The use of open environment in the assembly of its housing also reduces internal reflections. This means that Audio Tecnica 4033 is very sensitive.
Another advantage of the microphone is the fact that it will serve you for many years because the vapor-deposited gold diaphragm takes five steps in its aging process. This ensures that it operates at a steady level for a long time.
Ergonomically, the Audio Technica 4033 is a very tough microphone that will not easily break up when it drops, which is inevitable once in a while.
The microphone is at par with many other higher-priced models.
Where to Purchase:
Check Out the Amazon Here
---

Technical Info:
Dimensions: 170 mm long and maximum body diameter of 53.4 mm
Weight: 380 g
Frequency response: Between 30 and 20,000 Hz
Impedance: 100 ohms
Open circuitry sensitivity: -32 dB (25.1 mV) re 1V at 1 Pa
Sound level: 155 dB SPL, with 10 dB
Maximum input: 145 dB SPL, 1 kHz at 1% T.H.D
Low frequency roll-off: 80 Hz, 12 dB/octave
Polar pattern: Cardioid
Element: Fixed-charge back plate and permanently polarized condenser
Dynamic range: 128 dB, 1 kHz at Max SPL
Be sure to check out the other Microphone Reviews