The AT4040 is a large-diaphragm condenser mic that is best used in a studio setting.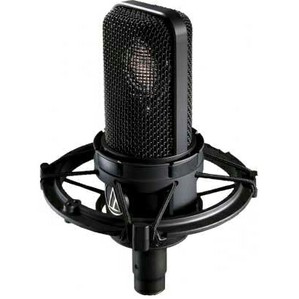 This large-diaphragm mic is ideal for studio use. Its exceptional low noise, wide dynamic range, and high SPL capability give it unparalleled versatility compared to other mics in its class.

Though it falls into the category of a large-diaphragm studio mic, it doesn't offer the sensitivity of other mics that fall into the same price range. This could make it hard to mic certain instruments and vocal ranges that other large-diaphragm mics can handle.

---

Audio-Technica AT4040 Large-Diaphragm Studio Condenser Mic
The AT4040 is a large-diaphragm condenser mic that is best used in a studio setting.
The Audio-Technica AT4040 is a large-diaphragm mic that's ideal for professional studio use. It features an externally polarized true condenser design and a large diaphragm tensioned to specifically provide a naturally smooth sound. Transformerless circuitry is included to virtually eliminate the low-frequency distortion that's common in many large-diaphragm microphones.
The housing of the AT4040 is symmetrically designed to provide an open acoustical environment that minimizes unwanted internal reflections. It also includes a switchable 80Hz high-pass filter that allows you to change the settings when mic-ing different voices or instruments. The AT4040 also has a cardioid pattern that isolates the source while omitting other noises. It's equipped with 48V phantom power, which is very essential if your mixing console doesn't include this feature.
There are many great uses for large-diaphragm mics, and the Audio-Technica AT4040 will make a great addition to your equipment list. Aside from being used to mic some vocals, the AT4040 can be used to mic guitar amplifiers, drums, and other instruments, all with the true sound of a large condenser mic. The ability to change the Hz will allow you to experiment with different sound and frequency changes to find the one that best fits the voice/instrument you're trying to mic. The elimination of low-frequency distortion will provide a round sound without any clipping from the recording end.
Because the Audio-Technica AT4040 is a large-diaphragm microphone, it's larger in size. It's easy to assemble and comes with a shock mount that should fit any standard microphone stand. Use it to bring out those low frequencies you have trouble accentuating with mics of smaller diaphragms.
Conclusion:
If you are looking for a professional studio mic that will deliver low frequencies and true sound to your recordings, look no further than the Audio-Technica AT4040. While it may not be the appropriate mic for some vocals or instruments, it will truly deliver large, round sound. Plus, it's definitely a worthy investment for the price.
---

Technical Info:
Element: Externally-polarized (DC bias) condenser
Polar Pattern: Cardioid
Frequency Response: 20-20,000 Hz
Low Frequency Roll-Off: 80 Hz, 12 dB/octave
Open Circuit Sensitivity: 32 dB (25.1 mV) re 1V at 1 Pa
Impedance: 100 ohms
Maximum Input Sound Level: 145 dB SPL, 1 kHz at 1% T.H.D.
155 dB SPL, with 10 dB pad (nominal):
Noise: 12 dB SPL
Dynamic Range: (typical) 133 dB, 1 kHz at Max SPL
Signal-to-Noise Ratio: 82 dB, 1 kHz at 1 Pa
Phantom Power Requirements: 48V DC, 4.2 am typical
Switches: Flat, roll-off;
10 dB pad (nominal):
Weight: 12.7 oz (360 g)
Dimensions: 6.69" (170.0 mm) long,
2.10" (53.4 mm) maximum body diameter:
Output Connector: Integral 3-pin XLRM-type
Accessories Furnished: AT8449 shock mount for 5/8"-27 threaded stands; microphone dust cover; protective carrying case
Audio-Technica Case: STYLE R1
MSRP: $495
Were to Buy: