Small, convenient clip on mic.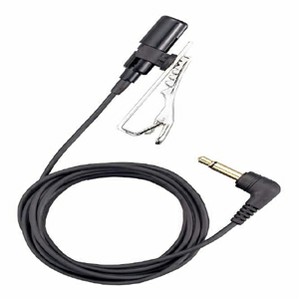 I love the convenience of this mic. It's so small and easy to use! It simply clips onto your shirt or tie and hangs there hands free. It's small and lightweight, so there's no strange pulling on your clothes. It can be used with so many different kinds of recorders, making it a good buy for anyone.

I found it almost too sensitive sometimes. For example it picked up the sound of my clothes when clipped on, and that was a little annoying. I also found it didn't work as well for far away voices. It's not the perfect mic for lectures in a big, crowded hall.

The Olympus ME-15 is a great little mic for people who do a lot of close range voice recording. You can use it at home or in the office, or for interviews that you'll need to transcribe later.
---

The Olympus ME-15: Quality Sound With a Convenient Clip Feature
The Olympus ME-15 is a good quality mic that's ultra handy and super lightweight.

This is a very handy mic to have in a variety of situations. You can use this little clip-on with almost any recording device. It's compatible with both digital recorders and ones that require tape cassettes. As long as the plug fits, you're ready to go.
I recommend this mic to anyone who plans to do a lot of close proximity voice recording. It's quite sensitive and you can use it to pick up not only your own voice but that of others, as well. For such a small mic it's really good at differentiating between voices. I found everything was clear and precise. If you choose to clip it to your clothes, however, you could pick up some of the rustling of fabric and this gets in the way of precise sound. This is something you'll want to be careful of when using the Olympus ME-15.
If you plan on using this in a sit-down situation – like a meeting or interview – I recommend you lay the mic on the table rather than clip it to yourself. You'll get the best possible sound with no interference. And if you have a tape recorder as opposed to a digital one, it's a good idea not to place it right on top. If you have the mic and the recorder touching, the mic may pick up sounds of the tape reels moving. These really aren't serious problems, though.
Using the Olympus ME-15 microphone makes any recorder more versatile. You'll get much clearer sound and if you plan to be in motion, the clip is priceless. It frees up your hands to take notes and do whatever else you'll need to. I hated having to lean over with the recorder to make sure I got what someone said – what a pain! With this mic, you'll never have to do that. Plus, it's perfect for taping small lectures or business meetings.
This is an extremely handy mic to have around, and for the price you really can't go wrong.
---

Technical Info:
Component type: Microphone
Remote control description: None
Connectivity technology: Wired
Audio input: Microphone
Microphone form factor: External
Microphone technology: Electret condenser
Microphone operation mode: Mono
Audio sensitivity: -42 db
Weight: 0.4 Ounces
MSRP: $29.99
Be sure to check out the other Microphone Reviews
Were to Buy: