UHF wireless vocal microphone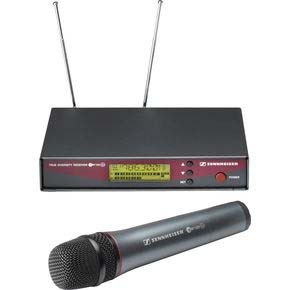 As clean as a wired Sennheiser mic! Great measures were taken to ensure transmission clarity, including almost 1,500 UHF frequencies from which to tune. An innovative locking feature on the bottom of the mic protects the power and mute functions.

Nothing bad.

You could get wild with this new-found freedom. Great wireless system, reliable and ready for the stage.
---

Sennheiser Is Sexy with No Cables On
You could get wild with this new-found freedom. Great wireless system, reliable and ready for the stage.
Tired of being tethered to the stage? Go wireless! The inherent risks with going wireless may leave you weary (namely, interference). UHF systems are very reliable and pretty standard. We use them for cell phones, TV and a whole host of other communication devices, but there's always room for a Sennheiser microphone.
In the Sennheiser EW 165 G2 package, you get a handheld transmitter microphone and the rack mount receiver (half space). You'll also get a microphone clip; most wireless handhelds will not fit into a wired mic's clip because the housing is much larger.
Among the cooler features of the system is Autoscan, an automatic frequency sweep. Through this function, the unit evaluates its environment and determines what frequencies will transmit the best.
The handheld microphone is designed with practical circumstances in mind. For starters, its power and mute button are locked and protected by a rotating cup on the bottom of the handheld. The advantage of this, as opposed to others like Shure's two button locking system on the Beta 58 wireless, is the buttons are physically protected.
The EW 165 G2 is actually an e865 microphone-gone-wireless. It's a super-cardioid pattern; such a tight pattern allows you to wonder around stage or in front of the mains with less risk of noise bleed or feedback. The frequency response is from 40Hz to 20kHz. The e865 capsule was a great choice for the wireless system (if nothing else) because of its frequency curve. There is a nice roll off at the bottom end and a bump in the top end for additional brightness. So if there is any interference in the transmission, it'll probably be obfuscated by the bright clarity of the microphone's texture.
My opportunity to work with the EW165G2 was at a packed shore-front club. The lead singer of a seven-piece band used it while prowling around stage and even into the audience. The best advantage of this particular mic is you can safely wander into other players' monitor mixes or near their loud instruments and there is minimal interference.
---

Technical Info:
Frequency Range: 740-776Mhz
Transducer: condenser
Frequency response: 40–20,000 Hz
Pick-up pattern: Super-cardioid
Maximum SPL: 150 dB
Sensitivity (free field, no load): 3 mV/Pa at 1 kHz nominal
Nominal impedance: (@1kHz) 200 Ω
Price: $1,060
Be sure to check out the other Microphone Reviews

Were to Buy:
You can find this Mic on this Insturment Pro Page. It may also be available on the American Musical Supply Site