Solid-state circuitry for tube mic emulation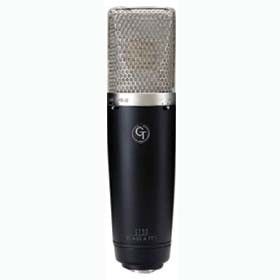 Clean, sensitive, and great design. Works particularly well with a tube preamp.

As with any mic, you might need to work out some kinks with a little EQ in production. Also, placement of this mic can cause the frequency response to be temperamental.

The value of the GT 50 is in its price for quality. At around $360, the GT50 is a relatively easy addition to any studio's mic collection. Will it outperform the Neumanns and Mojaves of this world? Nope. But for those with shallow pockets and a limited line of credit, the GT50 will do your music justice.
---

The Groove Tubes 50 is Neither a Groove Nor a Tube
At around $360, the GT50 is a relatively easy addition to any studio's mic collection.

Before all else, it should be made clear the microphone I own and faithfully use is a GT55, the predecessor to the GT50. The GT50 is really just a modified GT55. Both are large-diaphragm condensers and have the same exact specs. On your right, you'll see that the top two images display the GT50, while the bottom image displays my GT55.
"[The GT50] doesn't feel as closed off," said Groove Tubes' Audio Manager Sam Austin. "The new grill material gives it an open-acoustic feel… like getting more signal to the capsule."
The GT50 also comes with a aluminum hard-shell case and a shock mount. My GT55 came with a pleather-like zipper pouch and no shock mount, though I wound up buying an aftermarket one anyway.
So everything positive about the GT55 (including features) can be said about the GT50, and then some. With that, the GT55 is "that mic" of my studio. For those of you not too familiar with the studio environment, every studio has "that mic," basically the b!tch of the bunch that's used for everything. When in doubt, I'll just throw my GT55 in front of it and hope for the best. That's how much I trust it to get the sound I need. That's not to say the GT55 doesn't have its specific applications.
My vocals are almost exclusive to the GT55, by choice. My brother is the main vocalist I record, and this mic works well with the texture and tone of his otherwise-annoying voice. Run into a Universal Audio LA-610 preamp with matched input impedance (500 Ohms, in this case), the GT55 delivers incredible warmth and depth. The general concept behind the GT55 is to emulate tube sound with circuit technology. There is no tube in this mic, and it sounds pretty good direct into a recoding console. But to really reap its benefits, I strongly suggest a tube preamp.
Usually, I treat my GT55 tracks with compression and EQ, and find it necessary to occasionally boost the 3K and above to pull out more brightness. Every once in a while, the capsule picks up too much of the vocal's mid or lower end and I wind up scooping around 600Hz or cutting the high pass filter (HPF) to around 200Hz.
One of the features on the GT55 is an HPF switch. When enabled, it attenuates gently at 12dB/octave starting at 75Hz. This comes in handy when recording boomy vocals or instruments, especially if you like your recordings to be intelligible (always a good look).
Another feature of the GT55 is a –10dB attenuation switch. When enabled, it attenuates the entire frequency response by –10dB. This is good for recording high SPL instruments like horns.
Many of my bari sax tracks have been recorded with this mic. Oddly enough, I've found the exact opposite with my bari tracks; there is too much 3 to 4K and not enough bottom end. This could be an anomaly of my studio environment, but after trying various mic placement techniques, I've determined it may just be an anomaly of timbre. Either way, the bari tracks take a good boost of low-end and some LPF down to around 1K, and the end result is present and beautiful.
---

Technical Info:
Preamp Topology: Class A FET
Polar Pattern: Fixed Cardioid
High Pass Filter: Switchable 75Hz,12dB/octave
Attenuation Pad: Switchable -10dB
Frequency Response: 20Hz – 18kHz
Equivalent Noise: 22dB SPL – A weighted
Sensitivity: 32mV/Pa
Maximum SPL: 134dB-144dB (adjustable w/pad)
Maximum Output: 3.2V RMS for 1% THD
Typical Load Impedance: >500 Ohms
Output Source Impedance: 200 Ohm transformer isolated
Price: $360.00
Be sure to check out the other Microphone Reviews

Were to Buy: