Record the acoustic guitar like never before!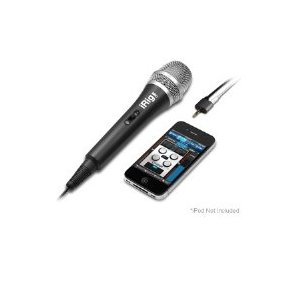 -Sturdy and dependable casing
-Very affordable price
-Allows users to record directly onto iPad and iPhone
-Adequate sound quality

-Not many extras or features
-Isn't much use outside of iPhone and iPad recording

The IK Multimedia iRig Microphone certainly does what it advertises and, though that's all it does, it dependably and adequately records audio directly onto your Apple device in real time. It is very affordable, though it does very little beyond what it suggests, the price is very agreeable for what it does do.

---

IK Multimedia iRig Microphone
The first handheld microphone for your iPhone/iPad
It wasn't so long ago that a quality microphone could only be used in a studio. Then we started seeing topnotch mics that could plug into the USB port of a laptop and distribute crisp, clear audio in almost any environment. It shouldn't come as a surprise then, that the IK Multimedia iRig microphone is the first high quality mic that connects directly to an iPhone or iPad. But does it deliver on the goods or is it just an attractive gimmick?
First thing's first: If it is a gimmick, at least it's an affordable one. The iRig sells for sixty dollars, a price that would justify any shortcomings. After all, any mic that goes for less than a hundred bucks usually comes with its share of flaws. The fact that the iRig is treading new ground by being designed for portable media already puts the odds against it, but we were surprised to find that the audio capabilities were actually pretty darn impressive.
Nobody is going to mistake IK's newest entry for a pricey studio mic, but the three levels of gain deliver more capabilities than one might think. The sturdy metal housing is also a nice perk, ensuring that musicians who record in rugged settings won't have their jam sessions cut short. Another nice touch was the mic's ability to pick up both distant and close sound with equal ease. Anybody who records with a full band knows how important that can be.
Still, this is a sixty dollar mic and, though it performs above and beyond its duties, you won't be replacing your professional mics any time soon. The iRig is wonderfully versatile and it will allow you to record something that just popped in your head so you can hold on to it and record it professionally later. Just don't expect to shop around a demo with anything recorded on it. But this isn't what the iRig offers and it isn't what the iRig is about. The iRig is a handy, portable, small mic that lets you record on the go onto an iPad or an iPhone. At the very least, you can say that it does this task very admirably.

Purchase the IK Multimedia iRig Microphone here
---

Technical Info:
MSRP: $59.99
Dual minijack connector
Sturdy, tough outer casing
Three level gain switch
Adjustable mount
Real time monitoring
Be sure to check out the other Microphone Reviews