Strong microphones for any situation.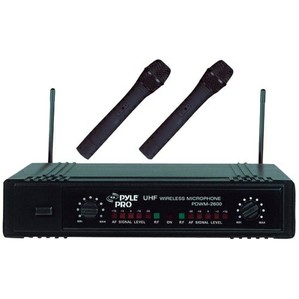 It's really cool that these microphones can be used together. This allows you to balance sound more professionally in many situations. And the fact that both have separate volume controls makes that professional level even easier to achieve. I also love the wireless aspect of this mic system. It's so nice not having to trip over wires!

The sound you get when using this Pyle dual uhf wireless microphone system isn't perfect. It may be good for addressing groups in a speaking setting but it's not nearly as good when it comes to performing songs. The sound can get a little muddy. More clarity would've been nice to hear.

I think this microphone system is good for amateur performers. If you want to have a more professional sound then you'll probably have to put out a little more money for a higher end mic.
---

Pyle Dual Uhf Wireless Microphone System: Made For Addressing Groups
This is not a mic suited for professional musicians. It's a much better choice for a public speaker.

The Pyle dual uhf wireless microphone system is a great setup that you can use in so many different situations. I like the versatility and the flexibility of this system the most. It even has two microphones that work together seamlessly to create great sound no matter where you happen to be.
I could see people using this at church. A reverend or preacher could use these to really get his or her message out to an audience. These would also be perfect mics for someone playing piano accompaniment to vocals. Both would be able to have a mic hooked up for the best balanced sound. Plus, with separate volume controls on each mic, you can really control the balance of sound to perfection. You can keep the instruments balanced in a way that will not overwhelm the vocals or detract from the song.
These Pyle dual uhf wireless microphones are even great when you're planning a reunion or some other event with a lot of people. The sound is loud and clear, and the price is certainly right. I love the affordability of the Pyle dual uhf wireless microphone system. This isn't an expensive system but it still performs well. These aren't the microphones you'd want to take with you into the recording studio, but for hooking up to your average loudspeaker these are perfect. They will boost your voice and everyone will be able to hear what you're saying clearly.
It's also ultra convenient that these mics are wireless. You can walk and talk or dance and sing without having to get all tangled up in wires or cables. That's a definite bonus.
I like these Pyle microphones. They're not made for true professionals but they're great for amateur performers or those addressing large groups of people.
---

Technical Info:
UHF frequency range: of 710-850MHz
Number of mics: 2 hand-held wireless mics
Outputs: Individual XLR balanced outputs and one 1/4" mixed unbalanced output
Dual RF indicators: Yes
Dual AF level meters: Yes
Audio mute circuitry: Yes
Component type: Wireless microphone system
Remote Control Description: None
Connectivity Technology: Wireless
Audio Input: Microphone
Microphone Form Factor: External
MSRP: $220
Be sure to check out the other Microphone Reviews
Were to Buy: