Technology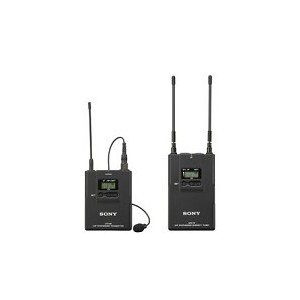 This wireless microphone system is a replacement of its predecessor the UWP-C series, since it is inclusive of a variety of enhancements.

This device eats the batteries very fast and besides this con, most of the people find it bulky & heavy. This makes moving around with it to be hectic. In addition to this, there are other instances where the screen foams and renders the device ineffective. It is also very expensive and this makes it one of the main reasons why the product is becoming more unpopular.

The Sony UWPV1/3032 Ch 30/33 UWP-C1 Wireless Package has received a rating of 3.5 on average by the customers that have used the device. I would recommend this product to a friend since it is a great buy.
---

Sony UWPV1/30320 Ch 30/33 UWP-C1 Wireless Package
This is one great wireless package.

The enhancements made on the system include an all metallic chassis that is rugged and a transmitter that has an input that is meant for switchable Mic or Line. Moreover, this package also has a synthesizing tuning feature that is incorporated by the PLL system, reception that has diversity of space and all the other features that were found in the UWP-C hence making it such a popular product.
All the signals that are coming in and any potential RF interference are minimized and only the strongest signals are consequently selected. This is because this system has a relatively excellent feature that gives the receiver (which can also be mounted on a camera) the diversity of space which stabilizes reception. The device also offers great clarity in sound due to its versatility.
This system has antennas that have been designed in such a manner that they swivel around which as a result strengthens the reception. In addition to this, there is the provision of an output for stereo mini-jack that is also incorporated with a monitor for controlling the volume. Cables for mini, stereo and XLR are all provided for. All information regarding the channel and frequency, RF input level, the operating time accumulated, the battery life and audio output status are all displayed on a LCD screen. Both the receiver and the body feature UHF frequencies that are 188 in number and they normally operate for not more than 8 hours. The batteries that they use for operating are two alkaline AA sizes. The price that this product is sold at in most online stores is $449.95.
Where to Purchase:
Check Out Amazon Here
---

Technical Info:
Consists of an omni lavalier microphone, bodypack transmitter and portable tuner

Suitable for a wide range of applications, from news gathering and interviews to talk shows and conferences

The lavalier microphone is supplied with microphone windscreens and a microphone-holder clip

The bodypack transmitter is supplied with a belt clip

The tuner is supplied with a shoe-mount adaptor (for camcorder mounting) and 2 cables (3-pole mini-plug/XLR and 3-pole mini-plug/stereo mini-plug)

Be sure to check out the other Microphone Reviews