This mic has a retro look, warm sound, and is optimized for recording vocals.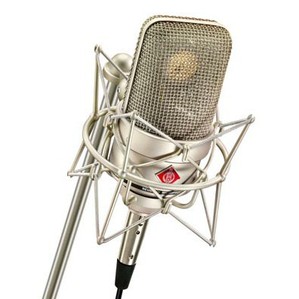 The Neumann TLM 49 is a large-diaphragm condenser microphone that is best used in the studio. Its cardioid pattern and warm sound make it a favorite for vocal recording.

While Neumann makes a great product, it can be on the pricy side, depending on how much you have to spend on studio gear.

This mic is among those chosen for vocal recordings in many professional recording studios, and is definitely able to perform with the best.
---

Neumann TLM 49
This large-diaphragm condenser mic is a favorite among studio owners, and is one of the top choices for vocal recording.
The Neumann TLM 49 is a large-diaphragm condenser microphone that is widely used in recording studios everywhere. It's characteristically warm sound and retro design make it a favorite for recording vocals. The design, as inspired by the legendary Neumann M49 and M50 microphones from the 1950s, gives it a sturdy look and feel, as is typical of Neumann. The fine matte nickel finish, along with the cardioid pattern and other sound characteristics serve to further orient this mic to the M49 and vintage U47.
The lack of transformerless circuit technology and the retro look of this mic together insure low self-noise and the use of high gain levels. It was built especially for vocal recordings, and works well for speech and song. In addition, it can also be suitable when miking certain instruments, but it is important to keep in mind that when doing so, it may be necessary to work diligently with mic settings and placement before the right sound can be achieved.
The large-diaphragm capsule of the TLM 49 provides a cardioid pattern, with a tendency toward supercardioid due to its special capsule construction that gives it this characteristic. Here, high frequencies are more directional, which is one reason why it is most often used in vocal situations. This also gives it a wide range of possibilities for other recording uses.
The front of the microphone has a red Neumann logo so it is easily distinguishable, which is a signature feature. The TLM 49 is also equipped with the K47 capsule, which was also used on the M49 and U47. This capsule is enclosed by a large headgrill which is acoustically very open and neutral with regard to the mic's sound.
The letters TLM stand for transformerless microphone, where the output transformer that would be used is replaced by an electronic circuit. Because of the wide frequency response, the TLM 49 can also transmit extremely low frequencies without coloration. This does mean, however, that the microphone is also sensitive to wind and vibration noise in this frequency range; this is why the mic is equipped with elastic suspension and a rubber shock mount for the capsule.
These key features, along with the warm sound this mic will provide, are what make it a top choice among studio owners and musicians alike. While the price may be considered a bit high end, it is well worth the money, and will last for a long time, providing many hours of use. That is why Neumann combined the new with the old, and came up with a product that encompasses the best of both worlds.
---

Technical Info:
Acoustical operating principle: Pressure gradient transducer
Directional pattern: Cardioid
Frequency range: 20 Hz … 20 kHz
Sensitivity at 1 kHz into 1 kohm: 13 mV/Pa
Rated impedance: 50 ohms
Rated load impedance: 1000 ohms
Equivalent noise level, CCIR1): 23 dB
Equivalent noise level, A-weighted1): 12 dB-A
Signal-to-noise ratio, CCIR1) (rel. 94 dB SPL): 71 dB
Signal-to-noise ratio, A-weighted1) (rel. 94 dB SPL): 82 dB
Maximum SPL for THD < 0.5 %2): 110 dB
Maximum SPL for THD < 5 %2) : 129 dB
Maximum output voltage for THD < 5%: -1 dBu
Dyn. range of the mic. amplifier /A-weighted, 0.5 %2)): 98 dB
Dyn. range of the mic. amplifier /A-weighted, 5 %2)): 117 dB
Supply voltage (P48, IEC 61938) : 48 V ± 4 V
Current consumption (P48, IEC 61938): 3.2 mA
Matching connector: XLR 3F
Weight: 825 g
Diameter: 78 mm
Length: 165 mm
List Price: $1,999.00
Be sure to check out the other Microphone Reviews

Were to Buy: