Record using 3 different polar patterns!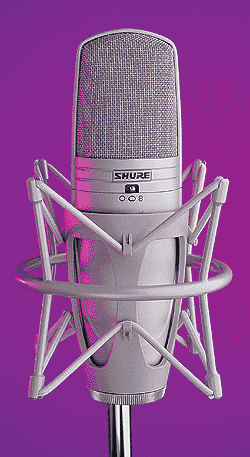 The microphone offers 3 separate polar patterns for recording, which can be used according to your specific requirements. It offers great quality when recording from the low-end of the frequency spectrum.

Does not add much coloration when recording vocals using the microphone within a studio environment.

With 3 modes of polar patterns available, you can use this microphone under any circumstances that may come your way. The extended bass pickup means that the lower ranges of sound are recorded perfectly. This is an all-round mic for a recording artist with many different requirements.
– Check the Current Price of this Product
– See What Amazon is Selling it for
---

Shure KSM44 Microphone Review
Great on the low-end
To begin this Shure KSM44 microphone review, this product is a heavyweight when it comes to recording capabilities. It sports three types of polar patterns; cardioid, omni and figure-of-eight. It is a condenser microphone that can be used in a studio environment or for live shows and is designed specifically to capture vocals. However, the Shure KSM44 microphone sports an impressive lower-end response, which means it can be used as a bass microphone or a pickup mic for the bass drum on the drum kit.
A toggle switch on the microphone's body allows you to change between the above polar patterns or between the different filter modes: 6dB/octave cut below 115Hz, 18dB/octave cut below 80Hz, and bypass. The capsule of the microphone is shock-mounted, which helps to filter out low-frequency noise.
During recordings, the Shure KSM44 microphone provides steady high notes as well as extensive response to bass. The cardioid mode captures the sound of a single voice with much efficiency while the omni mode captures a pure open sound that is ideal for recordings of live shows.
As a conclusion to this Shure KSM44 microphone review, the device is a great choice for a multi-pattern microphone, and gives a little extra with the extended low-end response, which places it a cut above other condenser multi-pattern microphones.
Where to Purchase:
Check Out the InstrumentPro Here and Amazon Here
---

Technical Info:
Diaphragm: dual 1", 2.5-micron, 24k-gold-sputtered Mylar
Polar Patterns: cardioid; figure-8; omnidirectional
Attenuation Pad: 15 dB
Highpass Filters: (2) 18 dB/octave @ 80 Hz; 6 dB/octave @ 115 Hz
Frequency Response: 20 Hz-20 kHz (±3 dB)
Dynamic Range: 125 dB (cardioid)
Sensitivity: -31 dBV/Pa (cardioid)
Signal-to-Noise Ratio: 87 dBA
Self-Noise: 7 dBA (cardioid)
Maximum SPL: 132 dB (149 dB with pad) into 2,500• (for <1% THD; cardioid)
Dimensions: 7.37" (H) × 2.2" (D)
Weight: 1.08 lbs.
MSRP: $1340.00
Be sure to check out the other Microphone Reviews