The Versatile Studio Performer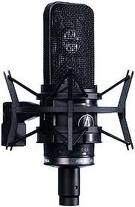 A transparent and versatile microphone is for an affordable price.

It is very sensitive that it may pick up even the slightest sound that may cause nuisance.

Superior performance for studio recording and live sound applications.
Combination of warm, transparent sound and super-high SPL capability.
Three switchable polar patterns: omnidirectional, cardioid, figure 8.
Vapor-deposited gold large-diaphragm design for extended frequency response.
Symmetrical direct-coupled electronics for excellent transient response and low distortion.
---

AUDIO TECHNICA 4050 Review
Great Product
Audio Technica is well-known to design and manufacture a wide range of products; it includes high-performance microphones, headphones, noise- cancelling headphones, wireless microphone systems, mixers and electronic products for home and professional use worldwide.
Specializing in Microphones, Wireless Systems and Headphones, Audio Technica designed the Audio Technica 4050- a transparent and versatile microphone for an affordable price.
The Audio Technica 4050 is one of the best-selling vocal microphones. It is ideal for use in the most demanding recording situations for it utilizes a low-noise transformerless design and multiple polar patterns. It also uses dual gold- plated large- diaphragm condenser elements for extended frequency response. The floating construction element gives isolation from noise and vibration. Audio Technica 4050 is a multi- pattern studio condenser microphone, 48V phantom power, switchable cardiod, omni, and figure-of-eight patterns. Includes AT 8449 shock mount, microphone dust cover, and protective carrying case.
There were some who have used the Audio Technica 4050 in their studio for recording and found that the versatility of the microphone is very impressive and the response and reproduction of any high frequency is incredibly great. The versatility of the microphone goes with its sensitivity to sound; you will literally hear everything as to every crack, pop, growl, and any other fine distinction you put into your vocals will come through exactly as you delivered it. Whether you have a voice in the higher range to sing rock music, scratchy voice, and the screams of the 80's at times, the microphone delivers it perfectly in time. The Audio Technica 4050 is also great for deep bass or baritone voice, as well as for low vocals. Since it is versatile this microphone also works well particularly in a female voice. There was somebody who had used this microphone with good results in his project studio, on vocals, guitars and hand percussion, and actually earned a major film festival award for the music he created in that studio.
The Audio Technica 4050 is also great on all kinds of stringed instruments as it produces an excellent transparent highs and mids balanced by rich low-end qualities, and it sparkles to make acoustic instruments come to life because of the advanced acoustic engineering that guarantees extensive performance capabilities and highest quality. The clarity of the words and sounds is due to the AT 4050's transformerless circuitry that virtually eliminates low- frequency distortion and provides superior correlation of high speed transients. As used as drum overheads in XY, they give a natural kit sound without a ton of cymbal wash.
The figure-of-eight pattern mainly offers the flattest response curve. The cardiod and omni pattern give more treble/upper mids boost which is useful for some applications. The most important factor when deciding on what to choose is the price-to-performance ratio. Meaning, as the price gets higher the quality should also be better. But offering you the Audio Technica 4050, it will give you a lesser and very affordable price for a quality that is so remarkable. To others, there is no better, more versatile microphone in the market than the Audio Technica 4050.
Where to Purchase:
Check Out Amazon Here
---

Technical Info:
Element: Externally polarized (DC Bias) condenser
Polar Pattern: Cardioid
Frequency Response: 20-20,000 Hz
Low Frequency Roll Off: 80 Hz, 12 dB/octave
Open Circuit Sensitivity: -40 dB (10.0 mV) re 1V at 1 Pa
Impedance: 150 ohms
Maximum Input
Sound Level: 147 dB SPL, 1 kHz at 1% T.H.D.; 157 dB SPL, with 10 dB pad (nominal)
Dynamic Range: 133 dB, 1 kHz at Max SPL
Signal to Noise Ratio: 80 dB, 1 kHz at 1 Pa
Phantom Power
Requirements: 11-52V DC, 4 mA typical
Weight: 11.6 oz (330 g)
Dimensions: 7.05" (179.0 mm) long, 1.97" (50.0 mm) head diameter,
1.30" to 0.87" (33.0 mm to 22.0 mm) tapered body diameter
Output Connector: Integral 3-pin XLRM-type
Accessories: AT8470 Quiet-Flex® stand clamp for 5/8"-27 threaded
stands; 5/8"-27 to 3/8"-16 threaded adapter; soft protective pouch
MSRP: $699
Be sure to check out the other Microphone Reviews