Large diaphragm ribbon microphone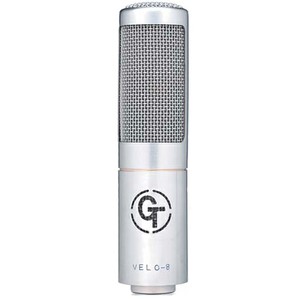 It's all about tone! With such smooth mids, this is a great mic to capture warm vocal tracks. It comes with a regular clip and a shockmount. It also comes with an innovative pop filter.

As with any mic, it takes some tweaking depending on your vocalist's sound. Once you have it set up, though, you're flying high!

The VELO 8 is the elegant result of engineering excellence and passionate artwork. It buffs out the harshness of a vocal or instrument performance and lets a warm, distinguished track shine through.
---

Groove Tubes VELO 8
Large diaphragm ribbon microphone
Back in the day when ribbon microphones ruled the earth (c. 1930s) they were called velocity microphones. Then the condenser/dynamic meteor hit, rendering the ribbons nearly extinct. Now the technology is being resurrected from tar pits with a new-found appreciation. And Groove Tubes is leading the way with the VELO 8.
The main reason GT is on top of the game is their ability to make such a quality microphone for such a reasonable price. The VELO 8 ranks in at just under $800. Its equals can run in the thousands.
In the package, you get the mic, a smaller enclosure, a replacement ribbon, a shockmount and a unique pop filter system.
What's unique about the filter is it connects to the shockmount by two small magnets. The main benefit to this is the filter will always be the same distance from the microphone, in effect eliminating a proximity variable among different sessions. It's also made of metal mesh, which is much more effective in disseminating air compared to traditional fabric filters. Want to feel the difference? Set up a fabric filter and GT's metal filter next to each other, put your hands two inches behind each filter and blow through them as hard as you can.
The shockmount is a valuable accessory. After markets can cost in excess of $50, so this is a well-appreciated addition to the package. It's a standard suspension mount that keeps the mic hanging by elastic hair ties.
A replacement ribbon is not indicative of durability and certainly not quality. It's simply a precautionary courtesy by GT. The ribbon is only 2.5 micron thick (human hair is about 100 micron). On a long enough time line, everything will break. When your ribbon element sings its last song, you have another ribbon to give life back to the VELO 8. Thanks Groove Tubes! What's even better is the microphone is designed to have its ribbon replaced by the average musician. And it's easy – even a drummer could do it under adult supervision.
The ribbon replacement process appeals to the Radio Shack cashier inside all of us. The directions are annoying but clear, walking you through every step. It took me about 15 minutes with only a Phillips head and scissors. Pulling off the housing may stimulate your robot fetish; it reveals the intricate and beautiful architecture of the VELO 8. Once that's off, it's a matter of removing four small screws and unplugging a small wires harness from a PCB. It's a little nerve-racking for the novice, simply because this may be unfamiliar territory, not to mention expensive. My advice it to take it slow, be gentle, and do it stone sober.
The enclosure for the mic is a little disappointing from an aesthetic standpoint. It holds the mic upright, which is great because ribbons can get fatigued when laid on their side for long periods of time. But the exterior materials make me feel like I got this mic at Hot Topic. As protective as it may be, it's simply cold and ugly. Call me a traditionalist, but for such a warm mic, I hope GT considers wooden casing or something more organic in the future.
A recessed knob on the side of the mic lets you choose the output impedance between 75 Ohms and 300 Ohms. You can also select a flat frequency output or a high pass filter. The HPF is set around 50Hz.
So how does it sound? In short, it's like an electric blanket for your vocals. The VELO 8 has that classic tone, the kind from which hit songs are made. It smoothes out the transient harshness of your performance.
For vocal treatment, I suggest using this mic with a limiting preamp (preferably with tubes, just make sure Phantom Power is off). If you have a good live room, the back side of the figure-8 pattern will grab some nice delay and reverb. Otherwise, I suggest throwing a fast slap (in the range of 80ms) in production. That gives the classic tone a classic treatment.
It would be opportunities lost to limit this microphone to vocal tracks. It can handle loud noises (up to 138dB), so try it on guitars, cabinets, percussion, piano, or virtually anything. They will all assume a certain common texture through this mic, and mix together beautifully in production.
---

Technical Info:
Mic Type: Ribbon
Operating Principle: electro-dynamic pressure gradient
Frequency Response: 20Hz – 16kHz (+-3dB)
Polar Pattern: figure-8
Sensitivity: -50dBV
Selectable Output Impedance: 75 Ohms (low), 300 Ohms (high)
Recommended Load Impedance: 300 – 600 (low), 1200 – 2400 (high)
High Pass Filter: Approx. 50Hz
Max. SPL: 138dB @ 0.5% THD
Generating Element: 2.5 micron corrugated aluminum ribbon
Price: $799
Be sure to check out the other Microphone Reviews

Were to Buy: