Stylish and sensitive studio to stage microphone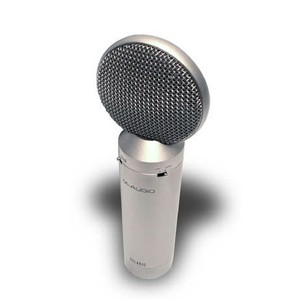 The M-Audio Solaris multipattern condenser microphone can be used in virtually any setting whatsoever. You can use it in the studio to record vocals or instruments, on stage at a small venue, or even at a large one. It outperforms other mics.

There isn't a single bad thing to say about this microphone. I couldn't even complain about price because for everything you get, it's so low!

I love this microphone, the versatility makes it an amazing buy and the quality of sound is out of this world. You can use this mic for anything – from the stage to the studio – it all sounds perfect.
---

The Wicked Hot M-Audio Solaris Multipattern Condenser Microphone
This is a mic you want to take care of. It sounds great and it looks amazing both in the studio and on stage.

The sensitivity of this mic sets it apart from the others out there. It's the super thin evaporated gold diaphragm that makes for such amazing sensitivity. I love the shape – it's so unusual and nifty. It has a sturdy grip and the head is flat to catch all the sound you throw at it.
When using the M-Audio Solaris multipattern condenser microphone, you'll never have more than than +/-1dB of deviation across the entire 20Hz-20kHz frequency range. The multipattern architecture is great because it provides the best versatility. You can definitely use this mic in any recording room, and in any situation; the sound will still rock your socks off. Whether you want to record vocals, your newest bass line or some wicked drum tracks it doesn't matter because they'll all sound perfect when recorded through the M-Audio Solaris. You can even use this mic when performing live at any venue, small or large. It's this kind of flexibility and adaptability that's impressed me so much.
This is a high end mic without the high end price tag. Sure, it's not cheap but it's not nearly as much as other professional grade microphones! I just love the selectable polar patterns and the bass roll-off filter, and I truly adore the design. If I were going on stage, I would definitely feel good about using the M-Audio Solaris multipattern condenser microphone. The same is true if I were recording in a studio. This is a killer mic, one definitely worth checking out yourself.
---

Technical Info:
Frequency Response: 20Hz-20kHz
Sensitivity: 16 mV/Pa (-36 dBv)
Maximum SPL for 0.5% THD: 130dB
Equivalent Noise Level: 14dB (A-weighted)
Output Impedance: 200 Ohms
Recommended Load Impedance >1,000 Ohms:
Power Requirement: 48-volt phantom power
Connector: 3-pin male XLR
MSRP: $349.99
Were to Buy:
You can find this Mic on this Insturment Pro Page. It may also be available on the American Musical Supply Site