A great studio mike for a reasonable price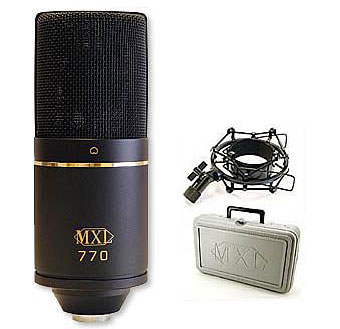 This microphone provides good quality for its price. Good for recordings and for use in the studio during practice sessions for vocalists.

Acts up a bit during recordings sometimes and will give a slightly distorted output.

This microphone is quite cheap and will do quite well in a studio environment. If you are a vocalist who likes to do recordings of songs which predominantly use the acoustic guitar as the musical instrument, the vocals you do with this microphone will merge nicely with the overall sound of the audio track.
– Check the Current Price of this Product
– See What Amazon is Selling it for
---

MXL 770 Microphone Review
Good for smooth vocals
Most of the MXL 770 microphone reviews describe this model as an everyday-man's microphone with a low price and great quality sound recording capabilities. It uses a condenser with a 20mm diaphragm to input sound and can be used effectively along with a computer recording environment or simply a studio practice environment.
Most sellers provide the MXL 770 microphone along with a mike stand and mike holder mesh, as well as a carry bag which is useful when you need to transport your mike. The most important thing about the microphone is the quality of the sound recorded through the microphone. According to experts, the best way to use this microphone is for a vocalist who will be doing their vocals on top of acoustic guitars and drums. When used in this scenario, the MXL 770 microphone will provide clear vocals which will cut through the sound of the guitars nicely to give the feel of a professional jam session.
If you are planning to record tracks using your computer, users' MXL 770 microphone reviews are favorable in saying that this is the recording device for you. It will give crisp, clear sound that will get recorded nicely without any unwanted peaks or dips. However, you should be careful not to move your mouth too close to the microphone during recording to prevent any distortion from occurring.
One of the best low-budget microphones out there, the MXL 770 microphone will provide you with the sound recording quality you need.
Where to Purchase:
Check Out the InstrumentPro Here and Amazon Here
---

Technical Info:
Type: Condenser pressure gradient mic with large 22 mm. Diaphragm
Frequency Range: 30Hz-20kHz
Polar Pattern: Cardioid
Sensitivity: 10mV/Pa
Impedance: 200 Ohms
S/N Ratio: 80dB (Ref. 1Pa A-weighted)
Equivalent Noise Level: 18dB (A weighted IEC 268-4)
Maximum SPL for 0.5% THD: 134dB
High Pass Filter: 6dB/octave, 150HZ
Attenuator Switch: 0/-10dB
Power Requirements: Phantom Power 48V +/-4V
Size: 60mm x 154mm
Weight: 420g
MSRP: $120.00
Be sure to check out the other Microphone Reviews