Dynamic mic for stage vocals or guitar amps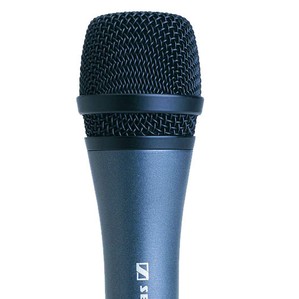 E835 has clean sound, great construction, is reliable, discreet and affordable.

After about four years of being yelled into, the grills on both my e835s are beginning to show rust.

For the same price as an SM58 ($99), the e835 pulls ahead with some specs. It has a wider frequency response and higher sensitivity. Tone and intelligibility are great, although it can dance on the verge of feedback without any feedback killers in the monitor mix.
---

Rock Solid Stage Mic for Vocals
For the same price as an SM58 ($99), the e835 pulls ahead with some specs.
At the time I bought my two e835's, they met my needs perfectly. I needed a vocal mic for my guitarist and a mic for his guitar cabinet. I think of the e835's in my mic case as the "guitarist's mics." To this day, they still work perfectly for these two applications. They also serve a third purpose: decoy. When the drunk girl balancing herself on my keyboards yells at me, "Hey I looooove this song, can I sing?" I say, "sure, right over there is a tall guy holding a guitar. Use his mic." In their stumble from me to him, I hit that mute button. It's like watching UFC with the sound off.
So the e835 works perfectly for stage vocals. The frequency response is slightly wider than the SM58, and the polar pickup pattern is the standard cardioid.
One thing I like a lot about the e835 is its ability to perform very well off-axis. This is why it comes in handy for guitar cabinets. Although I probably should, I never use a stand to mic the guitar amp. I just hang the mic by its cord from the guitar cabinet handle. The trick is to make sure the e835's head is hung right in front of a speaker. In this specific setup, the e835 outperforms the SM58 by far.
The e835's design and construction are slightly more discreet than most stage vocal mics. The whole body is a dark metallic color, and the grill is black. This helps maintain a low profile on stage because chrome mics will reflect every light aimed in their direction. So if singing into a rainbow isn't your thing, the e835 offers a nice alternative.
One problem with the Sennheiser e835 is this mysterious rust that's beginning to consume the grill. If I just owned one, I might pass this as an isolated incident. However, both my mics are getting rusty. It's like a VD for mics. They've been subjected to the same conditions and environments as my stage-grade Shures, Audixes and other Sennheisers; however, according to the company, the e835's are susceptible to rust by the nature of their job. Sennheiser said that there's still a pop filter below the metal grill and that the capsule is well protected. Replacement grills (called baskets) are available from the Sennheiser spare parts department for $13.67, and that includes a new pop filter.
The e835's are designed to reject feedback. However, I've found them to be slightly temperamental to feedback. Any mic feedbacks in extreme conditions, but it just seems the e835 is unpredictable and very sensitive to slight movement. So, even when we get all our levels set during sound check, there's always a risk in the back of my mind that the e835 may bug out during performance. And that's with a Behringer graphic feedback killer in the monitor line.
The Sennheiser e835 is also available with a switch (e835S), but there should really be no need to have a switch on a microphone. That's just extra circuitry and one more thing that could potentially break down within the components of the mic. If you want a Sennheiser with a switch, then I suggest downgrading to an e825S.
---

Technical Info:
Pickup Pattern: cardioid
Frequency Range: 40Hz – 16kHz
Sensitivity: 2.7 mV/Pa at 1kHz, nominal
Nominal Impedance: 350 Ohms
Minimal Terminating Impedance: 1k
Price: $99 for one; $220 for three pack
Be sure to check out the other Microphone Reviews

Were to Buy:
You can find this Mic on this Insturment Pro Page. It may also be available on the American Musical Supply Site. You may also want to look at the Sennheiser E835s Model