A great condenser microphone with pistol grip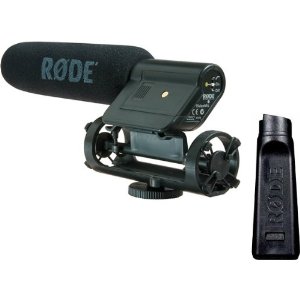 Comes with Pistol Grip option
Records simple sound as expected
Perfect for use with digital video cameras

Quality is not worth the price
Picks up a lot of outside noise

While most of the Rode products have high ratings and praise across the board, this one microphone in particular is not the favorite of some people. The price that is set for the microphone is high for the quality of the sound that is recorded. If you are doing simple sound recordings, the microphone will meet your needs perfectly and you will not be disappointed in the price that you have paid. However, if you are planning on recording more complex recordings, Rode might make another microphone that better suits your needs.
Check out today's price on Amazon here

---
Rode SVM Stereo Condenser Microphone with PG1 Pistol Grip Review

A great condenser microphone with pistol grip

Rode has an excellent reputation for making high quality sound equipment. Their stereo condenser microphones are some of the best on the market. Depending on what you are planning on using the Rode SVM Stereo Condenser microphone for, it could be the perfect solution for you! The condenser microphone does come with an integral wind screen, so much of the background noise is unable to be heard when doing recordings.
The size of the Rode SVM Stereo condenser microphone is perfect for use with digital video cameras, but is built solidly just like other Rode products are known for. Offering the convenient Cold Shoe Pistol Grip gives videographers a chance to use their microphone and video camera in the most ergonomic way possible and is a comfortable way to record.
As can be expected from the Rode name, the price of this product is high, but the fact that it comes with the additional bundle and that it has a sound quality like it does gives it high marks and makes it worth the price. While some microphones that are used alongside digital video cameras might be inconvenient to use, the pistol grip makes it easy and I would highly recommend it to anyone. The sound quality while recording is of studio quality, which makes this an excellent purchase for multiple recording purposes.

Purchase the Rode SVM Stereo Condenser Microphone with PG1 Pistol Grip here
---
Technical Info:

MSRP: $289.00
9V Battery
Bundle comes with Professional Grade Shotgun Microphone with Cold Shoe Pistol Grip
Condenser Microphone
Be sure to check out the other Microphone Reviews