Record the true quality of your instrumentation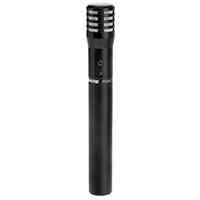 A 15 foot XLR cable is provided with the microphone. The microphone gives a crisp, clean, high quality sound when recording from the cymbals or vocals.

Not suitable for loud vocals or bass, as it does not capture the lower range or sound properly.

This great cardioid microphone will capture the sound from acoustic guitars, vocals or as a drum overhead with extreme precision that will blow your minds and the minds of your audience. As it comes with an XLR cable, it is more than easy to do some professional recordings from your instruments.
– Check the Current Price of this Product
– See What Amazon is Selling it for
---

Shure PG81 Microphone review
The king when it comes to recording soft music
To begin this Shure PG81 microphone review we should first mention that Shure is a producer of great microphones which are renowned for their quality and efficiency. The Shure PG81 microphone is no exception, with a great ability to record music brilliantly and clearly. This is a condenser microphone with a polar cardioid pattern, which offers you the most professional possible recording of your music.
The Shure PG81 microphone comes with a 15-foot XLR cable which can be used along with a mixer or along with your recording equipment easily, which makes the microphone compatible with all types of hardware that you might be interested in using.
Since this is a condenser microphone it requires a 1.5V AA battery to function and will go for about 10,000 hours on a single battery. The Cardioid pattern of the PG81 microphone ensures that only sound from the front of the microphone is recorded, which means that it will not record external noise or the sound from the instruments other than the one you are recording from. This makes the PG81 microphone a great choice to record drum cymbals, acoustic guitar, and vocals. Since the microphone captures the top ranges very nicely, it is perfect for those quite acoustic sessions. However, this microphone is not the best choice for recording bass, the kick drum, or loud vocals as it falters a bit on the lower ranges and when recording louder sound.
The brass and steel casing of the PG81 microphone is very strong and ensures long-term use of the microphone. You can also power the microphone from a phantom power source, and there is an on/off switch available on the mic itself to regulate power usage, which helps save battery power when not in use.
In conclusion of this Shure PG81 microphone review, the microphone is a great choice of mic for all-round recording requirements that spring up.
Where to Purchase:
Check Out the InstrumentPro Here and Amazon Here
---

Technical Info:
Frequence response: 40 – 18 000Hz
Polar Pattern: Cardioid
Impedance: 200 Ohms
MSRP: $180.00
Be sure to check out the other Microphone Reviews