Capture the sound from your drums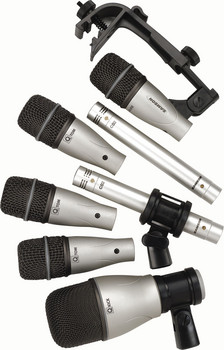 This microphone set is extremely easy to set up with your drum kit. The microphones specifically record the drum they are assigned to and nothing else. Gives great quality sound.

The durability of the microphones is a bit on the low side, and they have random malfunctions after some time.

---

Samson 7kit Drum Mic set review
Sensitive drum mics that will capture your true drumming skill
There are quite a few drum kit microphone sets out there, however, this product will give you that great level of quality you need at a low price, as Samson 7kit drum mic set review describe. To kick off this Samson 7kit drum mic set review, we'll first look at the technical details regarding this microphone set.
The Samson 7kit drum mic set comes with a Q kick bass drum mic with a swiveling stand, a Q Snare snare drum mic with a rim clips, 3 Q Tom tom mics with rim clips and two CO2 pencil condenser mics with shock clips for the cymbals. XLR connectors are also included as well as a road case for easy travel.
The Samson 7kit drum mic set is a revelation in drum audio capture, as it provided excellent quality clearly defining each piece in the drum kit so that your recordings will be crisp and well fleshed-out. By using this mic set, you will be able to get a truly professional recording from your drums. It would even work great if you were to take it to a gig or even a large concert which would use a mixer, as the provided XLR connectors would connect to the mixer easily. Normally only some minor adjustments are needed to balance the sound from the Samson 7kit drum mic set perfectly.
All in all, the conclusion of this this Samson 7kit drum mic set review is that if you are an amateur drummer whose band is just about to kick off big time, this set is the best choice for you. It will boost you in to the major leagues with no problems.
Where to Purchase:
Check Out the InstrumentPro Here and Amazon Here
---

Technical Info:
Frequence response: Q Kick, Q Snare, Q Tom – 50Hz-16000Hz, CO2 – 40Hz-20000Hz
Polar Pattern: Cardioid
Sensitivity: C02 – -40 dBV/pa (10mv/pa); QTOM – -55 dBV/pa (0.78mv/pa); QSNARE – -55 dBV/pa (0.78mv/pa); QKICK – -62 dBV/pa (0.8mv/pa)
Impedance: 200 Ohms
MSRP: $300.00
Be sure to check out the other Microphone Reviews