Shure PG 6-Piece Drum Microphone Package. Quality sound and easy to use mic kit for drums.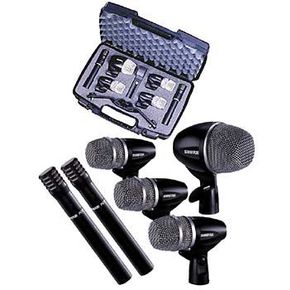 You may also be interested in checking out the Shure PG 4-Piece Drum Microphone Package

I like how this is an all around good quality drum mic kit and that it's not overly expensive. The way it picks up the bass tones as well as the high tones is really exciting but the best part of these mics is how simple they are to use.

I think that the clamps could use a little work as far as their design. I suggest you also try one you may already own to see if the sound is improved. It's also a little disappointing that you may need to do a little tweaking with a program to get the sound just the way you want it.

Overall, I like the Shure PG 6-piece Drum Microphone Package for its versatility and all-around good sound. It may not be the perfect mic set, but for the money it'll suit most people just fine.
---

All-Around Quality with the Shure PG 6-piece Drum Microphone Package
This is a good all-around mic kit for your drums. You can use these easily and the sound is great.

The Shure PG 6-Piece Drum Microphone package is a fantastic package for its price. While you definitely won't see Max Weinberg using this kit on his drums, it's an excellent solution for the rest of us amateurs.
I tested this microphone kit in different configurations. First I attached the microphones with the included clamps on a standard drum kit that I use for studio recordings. The clamps were sturdy enough, however they didn't completely isolate the microphone from transference sounds and I ended up with a few audio anomalies here and there. With proper tweaking, this wouldn't be a problem, and in a live setting it might even add to the overall ambience of the drums and give it a more gritty appeal. If you already have your own hardware, you may want to try attaching it to the mics. The sound might be better this way than with the included clamps.
The Shure PG 6-Piece Drum Microphone package was excellent at picking up rich bass tones with little distortion. Even when placed relatively close to my kick drum the sound was rich and warm. The Shure PG 6-Piece shined when capturing hi hats. The recordings were true to life, and even when the hi hat was dull and lifeless, a little bit of EQ work perked it right up, making the sound a hundred times better.
On a whim, I tried using the Shure PG 6-Piece Drum Microphone Package on a buddy's kettle drum. The results were impressive. As I'm sure most of you know, getting a good clean recording off a kettle drum can be difficult, but the Shure package produced the same high quality audio that it did when recording the rest of the drum kit.
This is a great buy for new musicians who need a complete quality and reliable drum recording solution on a lower budget. It won't match the quality of the higher priced alternatives, but for this price you definitely can't go wrong.
---

Technical Info:
Kit includes: One PG52 kick drum mic, 3 PG56 snare/tom mics, 2 PG81 instrument mics, carrying case
Neodymium magnet: Yes
Metal construction: Yes
Internal shock mount: Yes
On/off switch: Yes
Cardioid polar pattern: Yes
Power: AA battery, phantom power supply
MSRP: $975
Be sure to check out the other Microphone Reviews

Were to Buy:
You can find this Mic on this Insturment Pro Page. It may also be available on the American Musical Supply Site