Simple and rugged four piece drum mic kit.
You may also be interested in checking out the Shure PG 6-Piece Drum Microphone Package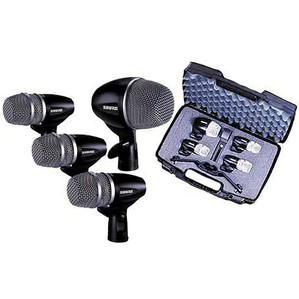 This kit includes a nice little set of drum mics that are especially good for live sound due to their clever mounts that attach directly to the drums. The PG 53 bass drum mic is not bad and makes a very nice outside kick sound.

It may be worth it to invest in the SM series microphones for drums as they will yield better results. Although this kit is rather nice for the price, it leaves something to be desired in terms of sound quality.

Not a bad drum kit set-up, but these won't provide the best result. They sound a bit cheap when it comes to toms and snares, but hold up very well to loud sounds.
---

Shure's Decent Drum Kit
A middle-of the road sounding kit with a nice price.

For only $250, you can mic a four piece drum set with Shure's PGDMK4 Drum Mic Kit. This is definitely not a bad price and the sound of these microphones isn't terrible either. Although they may not yield the most professional sound, they do a fair job and are really great for live sound. With clips that attach right to the drum, they eliminate the need for clumsy stands. The kit comes with three PG56 drum mics and a PG52 for the kick drum. On the toms, the PG56s aren't bad, but the SM series will probably do a better job. Certainly for the snare drum, a SM57 is a more appropriate choice, but the PG56 works well on the bottom of the snare with the 57. The PG52 handles high volumes without distortion and is tailored to accommodate low frequencies.
The mesh grills on these microphones contribute to their durability and they can withstand a fair amount of abuse. The kit comes in a carrying case with a foam interior which is great for storage and portability. They're small and rugged, making them good for the road.
Maybe not the best sounding microphones for a drum set, but this kit does an adequate job, and for the price, they're quite good. Investing in the SM series might be a better bet if you're in it for the long haul, but this is a great kit for live sound and touring.
---

Technical Info:
PG56:
Type: Dynamic
Frequency Response: 50 Hz – 15kHz
Polar Pattern: Cardioid
Sensitivity: (at 1000 Hz) -55 dBV/Pa, (1.8 mV), 1 Pascal=94 dB SPL
PG52:
Type: Dynamic
Frequency Response: 30 Hz – 13kHz
Polar Pattern: Cardioid
Sensitivity: (at 1000 Hz) -56 dBV/Pa, (1.6 mV), 1 Pascal=94 dB SPL
Price for Kit: $249.99
Be sure to check out the other Microphone Reviews

Were to Buy:
You can find this Mic on this Insturment Pro Page. It may also be available on the American Musical Supply Site